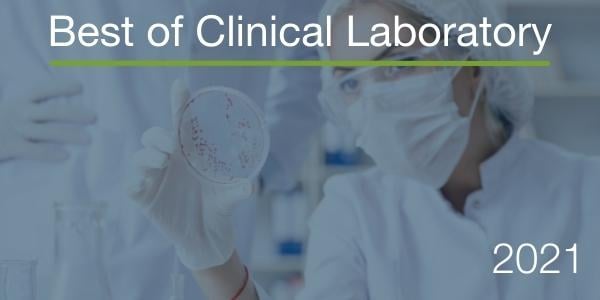 Helmer Scientific has collected the top ten clinical laboratory posts from 2021. Popular topics include temperature-controlled storage that is environmentally friendly and reduces the cost of ownership, ENERGY STAR® recognition for laboratory freezers, the capabilities of the i.C3® Information Center, and centrifuge solutions (including a cost-effective option for lipemic samples). Within these posts you will find a variety of helpful resources such as videos, white papers, and eBooks.

THE IMPORTANCE OF USING MONITORED STORAGE DEVICES FOR COVID-19 TEST KITS
Storing diagnostic test kits within the correct temperature range is important for ensuring accurate test results. Each test comes with manufacturer's Instructions for Use (IFU) that define the storage requirements for the kit. When refrigerated or frozen storage is specified, test kits must be stored within a precise temperature range to ensure the accuracy of test results.
VIDEO SERIES: i.C3® INTELLIGENT MONITORING FOR CLINICAL LABS
i.Series® refrigerators, freezers, and Pro Line platelet incubators from Helmer Scientific feature the i.C3® Information Center. The i.C3® supports clinical laboratories in their efforts to meet regulations for storing reagents and patient specimens. A series of videos has been created to demonstrate the major functions of the i.C3® Information Center.
GX SOLUTIONS REFRIGERATORS SUPPORT SUSTAINABILITY & REDUCE COST OF OWNERSHIP
Clinical laboratories need reliable cold storage to safeguard temperature-sensitive patient samples, reagents, and blood products. It is now possible to implement high performance laboratory refrigeration that maintains the required temperature range, provides dependable performance, supports facility sustainability initiatives, and reduces the lifetime cost of ownership.
HEROES BEHIND THE SCENES: MEDICAL LABORATORY PROFESSIONALS
As an "invisible work force" of laboratory professionals works diligently behind the scenes, the influence of larger trends in education and employment has contributed to significant staff shortages. The number of people entering the field hasn't kept up with retirements and burnout due to the demands of COVID-19. With all the devastating consequences of the coronavirus pandemic, it is, at least, bringing attention to the shortage of laboratory science professionals in the United States.
ENVIRONMENTALLY FRIENDLY MEDICAL-GRADE REFRIGERATORS SAVE ENERGY & REDUCE COST
Traditional cooling technology has been used in laboratory and blood bank refrigerators for many years. This approach relies on fixed capacity compressors and hydrofluorocarbon (HFC) refrigerants to achieve the required temperature range. While these systems achieve acceptable results, this type of design consumes more energy than newer approaches.
VIEW THE CAPABILITIES OF THE i.C3
®
INTERACTIVE TEMPERATURE GRAPH
Visibility into the temperature performance of storage devices can quickly alert users to any issues or provide reassurance that all is well. The ability to easily access and view this information in a user-friendly format can provide rapid insights into the performance of the unit. The i.C3® Information Center features an interactive temperature graph, which provides a visual history of temperature performance along with shortcuts for more information.
OPTIMAL TEMPERATURE MANAGEMENT FOR REAGENTS AND PATIENT SPECIMENS
In the clinical laboratory, the use of refrigeration designed for storing temperature-sensitive patient samples and reagents is important for ensuring their integrity and maintaining regulatory compliance. Storage within the correct temperature range is critical for ensuring accurate test results and reducing the risk of financial loss due to temperature excursions.
GX SOLUTIONS FREEZERS RECEIVE ENERGY STAR® RECOGNITION
The U.S. Environmental Protection Agency (EPA) has recognized additional Helmer Scientific products as meeting ENERGY STAR® program requirements. Helmer Scientific GX Solutions upright and undercounter laboratory and plasma freezers meet the energy efficiency requirements for High Performance Laboratory Grade Freezers and have been ENERGY STAR® certified.
CENTRIFUGE SOLUTIONS FOR CLINICAL LABS
Helmer Scientific offers a range of clinical centrifuges from Hettich. With precision engineering, durable materials, and more than 100 years of experience, Hettich centrifuges offer quality and performance laboratories can depend on. Centrifuge models are available for a wide range of clinical applications, from small to large volumes. Convenient pre-configured application packages are also available, making it easy to select the centrifuge, rotor, and accessories you need.
HIGH PERFORMANCE STORAGE FOR CURRENT AND LEFTOVER SPECIMENS
Clinical laboratories must store temperature-sensitive patient specimens for diagnostic testing. Properly storing the current inventory of patient samples is important for ensuring accurate test results. Specimens that are no longer needed for routine testing may also be a valuable resource for labs. There are special considerations when using leftover specimens for research purposes, including whether the specimen type and processing, handling, and storage conditions are appropriate for the study.
OTHER BLOGS YOU MAY BE INTERESTED IN...
We look forward to bringing you up-to-date information on news, regulations, and other information in 2022. Make sure to subscribe to the Helmer BlueView blog to receive updates to your inbox.
To learn about Helmer Scientific's solutions for clinical laboratories, visit our website.