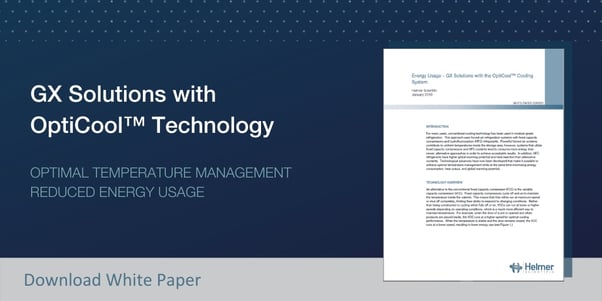 Traditional cooling technology has been used in laboratory and blood bank refrigerators for many years. This approach relies on fixed capacity compressors and hydrofluorocarbon (HFC) refrigerants to achieve the required temperature range. While these systems achieve acceptable results, this type of design consumes more energy than newer approaches.
The refrigerants that have traditionally been used have higher global warming potential and heat rejection than alternative coolants. Innovations in refrigeration technology have now been developed that make it possible to maintain tight temperature ranges while at the same time minimizing energy consumption, heat output, and global warming potential.
GX Solutions professional medical-grade refrigerators from Helmer Scientific utilize innovative OptiCool™ technology. Designed for critical healthcare applications such as the storage of blood products, patient specimens, and reagents, GX Solutions offer optimal temperature management along with decreased energy use. This can help facilities reduce their utility bills, lowering the total cost of ownership.
Blood bank and lab refrigerators that utilize OptiCool™ technology also help reduce heat output into the laboratory and benefit the environment by decreasing global warming potential. These advantages can help support facility sustainability initiatives. Quiet operation also contributes to a better working environment for staff.
Other Blogs You Might Be Interested In...
For an overview of the cooling technology that makes these results possible, as well as information on the reduction in energy use that can be achieved by switching from conventional medical-grade refrigerators to GX Solutions, download our white paper "Energy Usage – GX Solutions with the OptiCool™ System." The paper also highlights the impact of energy efficiency on cost of ownership and how facilities can save money year after year by updating to GX Solutions.