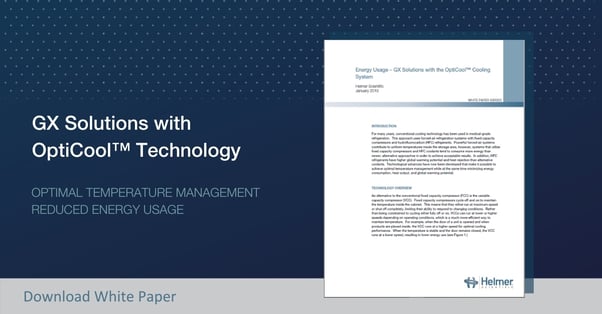 In the clinical laboratory, the use of refrigeration designed for storing temperature-sensitive patient samples and reagents is important for ensuring their integrity and maintaining regulatory compliance. Reagents, for example, must be stored according to manufacturer's instructions, and the temperature should be monitored daily.
Storage within the correct temperature range is critical for ensuring accurate test results and reducing the risk of financial loss due to temperature excursions. To achieve optimal temperature management, a laboratory refrigerator must excel in the following areas:

Temperature Uniformity

Uniformity is the measurement of temperature consistency across all usable locations in the cabinet. Tight uniformity provides confidence that patient samples, reagents and controls are maintained at the correct temperature regardless of storage location.

Temperature Recovery

Recovery is the amount of the time required for a cold storage unit to return to the setpoint after a door opening. Quick temperature recovery is necessary to ensure door openings do not cause stored materials to exceed the required temperature range. Recovery also is important when considering extended door openings due to inventory counts or restocking.

Temperature Stability

Temperature stability measures how effectively the cold storage unit maintains the temperature at setpoint, even during compressor and auto-defrost cycles. Compared to conventional refrigeration technology, newer approaches that leverage variable capacity compressors maintain a higher level of stability.
Other Blogs You Might Be Interested In...
GX Solutions laboratory refrigerators from Helmer Scientific are powered by OptiCool™ technology. The OptiCool™ system pairs a variable capacity compressor (VCC) and natural hydrocarbon (HC) refrigerants to provide optimal temperature uniformity, recovery and stability.
OptiCool™ provides temperature uniformity of +/-1°C, allowing clinical labs to confidently use all storage locations inside the cabinet, even for the most temperature sensitive products.
Variable capacity compressors in combination with a powerful forced-air design allow for rapid air exchanges after the door is closed, enabling quick recovery after door openings.
OptiCool™ results in stability with less than 1°C variability from the setpoint. This helps ensure sensitive, valuable products consistently remain at the proper temperature.
In addition to offering outstanding temperature management, OptiCool™ technology efficiently manages energy consumption, decreasing energy use, which reduces the total cost of ownership and supports facility sustainability initiatives. OptiCool™ also reduces noise, creating a better working environment for laboratory staff.
To learn more about how GX Solutions lab refrigerators with OptiCool™ technology provide superior temperature, energy, and noise management, download our white paper, "OptiCool™ Cooling System in Helmer Scientific GX Cold Storage Solutions: Technology and Benefits."