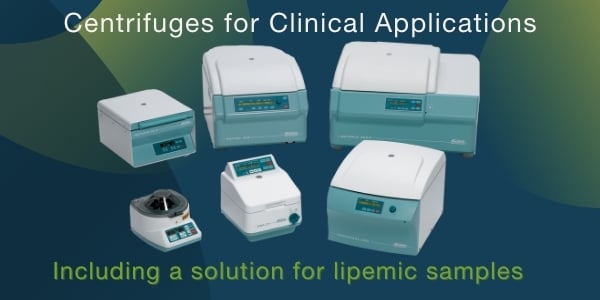 A centrifuge is an important tool used in the clinical laboratory, playing an essential role in separating liquid and solid components. Labs that perform biochemical analyses on body fluids use centrifuges to separate blood cells from serum/plasma, to separate sediment from urine, to measure the volume fraction of erythrocytes in blood (the hematocrit), and to separate bound from free components in protein binding and immunoprocedures.1
Helmer Scientific offers a range of clinical centrifuges from Hettich. The quality, safety, and reliability of these products has made Hettich one of the leading centrifuge brands worldwide. With precision engineering, durable materials, and more than 100 years of experience, Hettich centrifuges offer quality and performance laboratories can depend on.

Centrifuge models are available for a wide range of clinical applications, from small to large volumes. Refrigerated models are offered for applications that require cooling. Convenient pre-configured application packages are also available, making it easy to select the centrifuge, rotor, and accessories you need.
Helmer Scientific offers Hettich centrifuges and packages for the following applications, plus more:
Serology
Cytology
Urinalysis
Cell culture
Hematocrit centrifugation
Spinning different types of tubes, including standard blood, urine, and pediatric tubes, gel blood tubes, and microliter tubes.
In addition to the applications mentioned above, Hettich offers a cost-effective solution for processing lipemic samples. Ultracentrifuges are a costly approach to lipemia removal, especially when many labs only process them a few times a week. Sending out lipemic samples can also have disadvantages, such as longer turnaround times and the possibility of sample misplacement.

Hettich high-speed microcentrifuges are a great alternative to ultracentrifuges or sending out lipemic samples, supporting accurate test results while saving time and reducing equipment cost. In addition, multiple rotors and accessories are available for Hettich microcentrifuges, making these units a versatile addition to your lab as a primary or backup centrifuge.
Other Blogs You Might Be Interested In...
For more information on Hettich centrifuges from Helmer, visit our website. To learn more about high-speed microcentrifuges for lipemic samples, we offer a one-pager about the Hettich MICRO high-speed centrifuge for Lipemic Samples.
References:
1Medical Lab Management, Trends in Centrifuge Use, May 2018