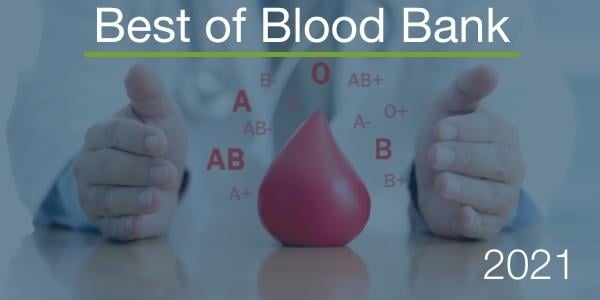 Helmer Scientific has gathered the top ten blood bank posts from 2021. Popular topics included the new GX Solutions plasma freezers, the capabilities of the i.C3® Information Center, and the benefits of Pro Line platelet storage. Within these posts you will find a variety of helpful resources such as videos, white papers, and eBooks.

EFFICIENTLY TEST STORAGE UNIT ALARMS WITH i.C3® AUTOMATIC ALARM TESTING
Blood banks perform quality control checks at regular intervals as part of their Quality Management System. Alarm activations are an important QC step for equipment such as refrigerators, freezers, and platelet incubators. i.Series® temperature-controlled storage products from Helmer Scientific make it easy to perform alarm checks.
ULTRACW® II CELL WASHER DEMONSTRATION VIDEO SERIES
The UltraCW® II Automatic Cell Washer saves time and effort by automating the manual steps associated with pre-transfusion tube testing, and it is very easy to install, operate, and maintain. To make using the cell washer even more convenient, we have developed a series of demonstration videos to walk you through various processes step-by-step.
VIDEO ILLUSTRATES THE BENEFITS OF RELIABLE & EFFICIENT PLATELET STORAGE
Platelet products are unique because they have a limited shelf life and require a great deal of resources for donor centers to collect and manufacture. Even during normal times, it can be challenging for blood banks to maintain a sufficient supply of platelets to meet patient needs. Watch our video to learn more about AdvanceCore™ Thermoelectric Heating and Cooling Technology and the benefits of Pro Line Countertop Platelet Storage Systems.
PLASMA FREEZERS DESIGNED FOR RELIABILITY, PERFORMANCE, & SUSTAINABILITY
Plasma products are stored at frozen temperatures to preserve clotting factors and optimize shelf life. GX Solutions plasma freezers from Helmer Scientific provide the reliable temperature-controlled storage blood banks need for safeguarding these critical products. In addition, these next-generation plasma freezers deliver performance and sustainability, including optimal management of temperature, noise, and energy use.
LEARN MORE ABOUT AGITRAK™ MONITORING FOR PLATELET AGITATORS
Pro Line countertop platelet storage systems from Helmer Scientific feature the i.C3® Information Center with the AgiTrak™ monitoring system. AgiTrak™ provides monitoring for the platelet agitator installed in a Pro Line incubator. To learn more, watch our video for a demonstration of the AgiTrak™ functionality included in Pro Line platelet incubators.
VIDEO SERIES: SEE HOW THE i.C3® INFORMATION CENTER SUPPORTS BLOOD BANK COMPLIANCE
The i.C3® Information Center is a touchscreen user interface integrated into i.Series® temperature controlled storage products. The i.C3® supports transfusion services and blood centers in their efforts to meet regulations for blood storage. To make it easy to learn about the benefits of the i.C3®, we have produced a series of videos and gathered them on a single webpage.
SAFEGUARDING PLATELETS WITH PRO LINE PLATELET STORAGe
Platelet products have a short shelf life and cannot be stockpiled. They must be stored within a tight temperature range and with continuous gentle agitation. To safeguard platelet products, it is essential for blood banks to have a platelet storage system that users can depend on to meet their requirements. Reliable performance in terms of minimizing service events and downtime is also extremely important.
HELMER SCIENTIFIC PLASMA FREEZERS RECOGNIZED BY AABB STANDARDS-COMPLIANT PRODUCT EVALUATION (SCOPE) PROGRAM
GX Solutions upright and undercounter plasma freezers achieved Standards-Compliant Product Evaluation (SCoPE) Program approval. The SCoPE program was designed to recognize suppliers that demonstrate compliance with AABB Standards. It helps vendors develop a better understanding of AABB Standards and how blood bank professionals rely on their products and services to meet accreditation requirements.
DONATIONS URGENTLY NEEDED AS BLOOD SUPPLY DROPS TO UNPRECEDENTED LEVELS
A critical national blood shortage has prompted urgent calls for donations from blood centers across the country. If blood is not available when it is needed, there is a negative impact on patient care. Elective surgeries might have to be postponed, and there are concerns about providing the supportive care needed by cancer patients undergoing chemotherapy.
PRO LINE PLATELET STORAGE: BENEFITS OF INNOVATIVE TECHNOLOGY
Pro Line Countertop Platelet Storage Systems from Helmer Scientific utilize an innovative approach to maintaining the temperature range required for platelet storage. AdvanceCore™ technology uses a specially designed solid-state thermoelectric cooling and heating system rather than a compressor to maintain the correct temperature range.
OTHER BLOGS YOU MAY BE INTERESTED IN...
We look forward to bringing you up-to-date information on news, regulations, and other information in 2022. Make sure to subscribe to the Helmer BlueView blog to receive updates to your inbox.
To learn about Helmer Scientific's solutions for blood banks, visit our website.