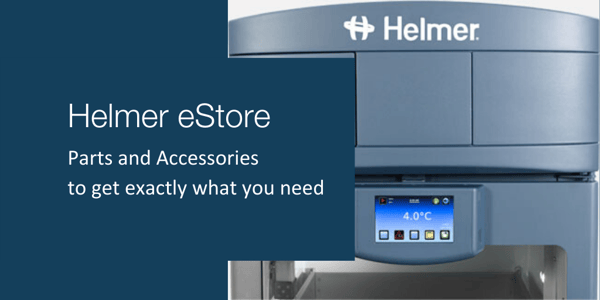 Clinical laboratories, blood banks, and pharmacies using products from Helmer Scientific have a convenient option for ordering the items needed to support or customize their equipment. Many parts, accessories, and disposables can be ordered directly from our online store.
A large selection of items is available for online purchase, saving time and streamlining the ordering process. You can search by keyword, part number, equipment model number, or product serial number to identify the correct item. Disposables and accessories are also directly linked to the store from our product webpages.
Here are just a few examples of the items you can purchase online:
Chart paper
Plasma overwrap bags
Solid ballast thermal buffer
Glycerin or glycol probe bottle kits
Seismic anchoring kits
Adapter kits for remote locks (for Pyxis and Omnicell)
USB flash drives
Storage options and accessories
And more.
The solid ballast mentioned has become a popular option for our refrigerator models. Did you know that it's possible to replace existing refrigerator glycerin bottles with the solid ballast, which provides a maintenance-free approach to thermal buffering? Solid ballasts for field installation in Helmer refrigerators can be easily purchased from our eStore.
Other Blogs You Might Be Interested In...
Visit our online store today to search for the parts, disposables, and accessories needed to support or customize your equipment. You can also bookmark the page for future use.