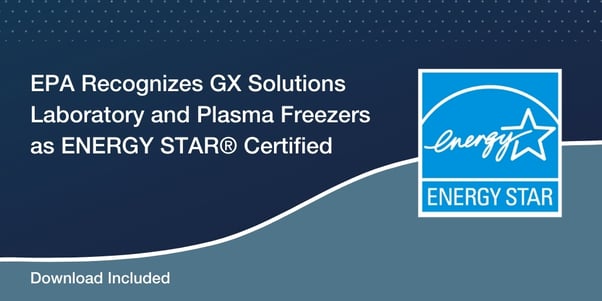 We are pleased to announce that the U.S. Environmental Protection Agency (EPA) has recently recognized additional Helmer Scientific products as meeting ENERGY STAR® program requirements. Helmer Scientific GX Solutions upright and undercounter laboratory and plasma freezers have been recognized by the EPA as meeting energy efficiency requirements for High Performance Laboratory Grade Freezers.

The ENERGY STAR® program helps safeguard the environment by promoting superior energy efficiency across a broad range of products and has been expanded to testing and recognition of cold storage devices used for clinical applications. This equipment category is broadly used across healthcare and research facilities to store critical blood products, patient samples, reagents, medications, and vaccines.
Helmer Scientific GX Solutions are powered by OptiCool™ Technology. This technology pairs Variable Capacity Compressors (VCC) with natural refrigerants to deliver the temperature performance required for clinical applications. OptiCool™ also enables reduction in noise, increases in energy efficiency, and supports global environmental sustainability initiatives by eliminating the use of refrigerants with high Global Warming Potential (GWP).
We are pleased to announce that additional Helmer Scientific products have been recognized by the ENERGY STAR® program. All GX Solutions, including undercounter and upright refrigerators and freezer models, meet certification requirements for the high performance refrigerator and freezer categories.
Please visit www.helmerinc.com/energy-star for the complete list of Helmer Scientific ENERGY STAR® recognized medical-grade refrigerators and freezers.
Other Blogs You Might Be Interested In...
To learn more about the OptiCool™ Technology that drives our energy efficient GX Solutions, download our white paper: Energy Usage - GX Solutions with the OptiCool™ System.