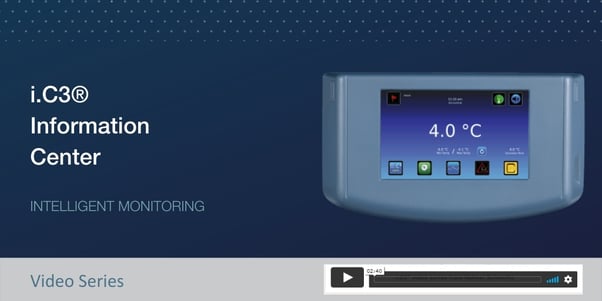 i.Series® refrigerators, freezers, and Pro Line platelet incubators from Helmer Scientific feature the i.C3® Information Center. The i.C3® is a touchscreen user interface that provides temperature data, intelligent diagnostic information, and security features to keep the information safe. It consolidates everything you need to know about the status of your storage device in one secure location.
The i.C3® supports clinical laboratories in their efforts to meet regulations for storing reagents and patient specimens. The College of American Pathologists (CAP) All Common Checklist provides guidance on how these materials should be stored. It stipulates that if a reagent manufacturer specifies a required temperature range, the temperature must be monitored daily.
The i.C3® Information Center supports compliance by monitoring the temperature inside a laboratory refrigerator or freezer. High or low temperature alarms activate if the temperature exceeds or falls below the alarm limits. Additional features, such as an onboard temperature graph, event log, and downloadable temperature and event files can also help support compliance with regulatory requirements.
Other Blogs You Might Be Interested In...
A series of videos has been created to demonstrate the major functions of the i.C3® Information Center. The series covers the following topics:
Overview
Event Log
Download
Automatic Alarm Testing
Interactive Temperature Graph
Access Control
AgiTrak (Pro Line platelet incubators)
All seven videos have been gathered on one web page for your convenience. Watch the i.C3® Video Series to learn more.