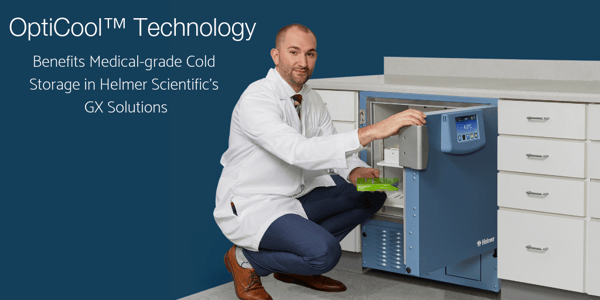 Clinical laboratories must store temperature-sensitive patient specimens for diagnostic testing. Properly storing the current inventory of patient samples is important for ensuring accurate test results, which in turn impacts patient care. Specimens that are no longer needed for routine testing during clinical care may also be a valuable resource for labs.
A recent Clinical Laboratory News article, "Turning Leftover Specimens Into Treasure," explains leftover specimens can have value for research purposes. It states, "Clinical laboratories routinely use leftover specimens for quality improvement and method development, validation, and verification purposes. For researchers, leftover specimens can be a springboard to carry out pilot studies and test novel ideas. IVD manufacturers also use them to generate data in support of premarket submissions to regulatory agencies."
Specimens from COVID-19 patients are of particular interest to scientists. When these samples are no longer needed for a patient's clinical care, they may become available for use as longitudinal specimens. According to the article, "Using leftover specimens for COVID-19-related studies could dramatically accelerate medical research."
There are special considerations when using leftover specimens for research purposes. These include if enough information is available to determine whether the samples fit within the intended use of the analysis. In addition, the specimen type and processing, handling, and storage conditions must be appropriate for the study.
Therefore, it is important for laboratories to use cold storage that ensures specimens are always within the correct temperature range, whether they are being stored for current clinical use or could be used for research purposes.
To achieve optimal temperature performance, laboratory refrigerators and freezers should provide excellent temperature uniformity, stability, and recovery after door openings. GX Solutions from Helmer Scientific are powered by OptiCool™ technology. The OptiCool™ system pairs a variable capacity compressor (VCC) and natural hydrocarbon (HC) refrigerants to provide high performance specimen storage.
OptiCool™ provides temperature uniformity of +/-1°C, allowing clinical labs to confidently use all storage locations inside the cabinet, even for the most temperature-sensitive products.
Variable capacity compressors in combination with a powerful forced-air design allow for rapid air exchanges after the door is closed, enabling quick recovery after door openings.
OptiCool™ results in stability with less than 1°C variability from the setpoint. This helps ensure sensitive, valuable products consistently remain at the proper temperature.
In addition to offering outstanding temperature management, OptiCool™ technology efficiently manages energy consumption, decreasing energy use, which reduces the total cost of ownership and supports facility sustainability initiatives. OptiCool™ also reduces noise, creating a better working environment for laboratory staff.
Other Blogs You Might Be Interested In...
Our white paper, "OptiCool™ Cooling System in Helmer Scientific GX Cold Storage Solutions: Technology and Benefits," discusses the improvements in refrigeration technology that enable performance and efficiency benefits for clinical applications.