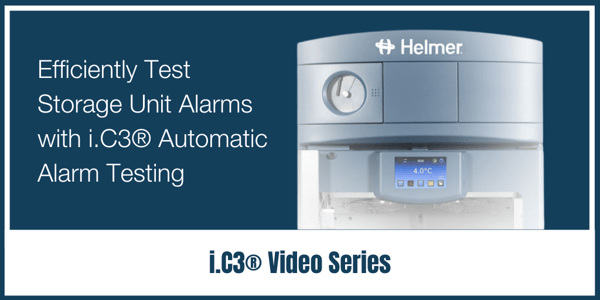 Blood banks perform quality control checks at regular intervals as part of their Quality Management System. Alarm activations are an important QC step for equipment such as refrigerators, freezers, and platelet incubators.
i.Series® temperature-controlled storage products from Helmer Scientific make it easy to perform alarm checks. The i.C3® Information Center, which is integrated into i.Series® blood bank refrigerators, plasma freezers, ultra-low freezers, and Pro Line platelet incubators, includes an automatic alarm testing feature.
The automatic alarm test utilizes a Peltier self-test probe that heats the probe for a high alarm activation and cools it for a low alarm activation. (It is different than a simple electronic "buzzer" test that only sounds the alarm without heating or cooling the probe.) With the i.Series® automatic alarm test, only the tip of the probe is physically heated or cooled, testing the alarm system without affecting the temperature of the stored contents.
An automatic alarm test is a more efficient process than a manual alarm test. Manually testing the alarms requires users to pull the probe out of the unit and warm it with water or cool it with an ice water slush. Automatic testing can save valuable time and effort.
The automatic alarm test generates a record of the test along with the temperature at which the alarm activated. This is important for compliance with the College of American Pathologists (CAP) Transfusion Medicine Checklist requirement TRM.42750, which calls for labs to be able to clearly show the temperature at which the alarm activated during a test.
The i.C3® documents the alarm activation temperature in an electronic record. The electronic record can be accessed in the storage unit's Event Log. The Event Log can be downloaded and saved, providing a record of the alarm test.
A series of videos has been created to demonstrate the features of the i.C3® Information Center. The video below provides a demonstration of the automatic alarm testing functionality included in the i.C3®.
Other Blogs You Might Be Interested In...
Helmer Scientific supports blood centers and hospitals, the patients they serve, and their efforts to keep the blood supply safe. We would like to express our gratitude to all staff involved in collecting, processing, and transfusing blood therapies to treat patients and save lives. We are here to help you properly store and monitor your blood products.
Look for additional videos that illustrate the major functions of the i.C3® Information Center on our BlueView blog.