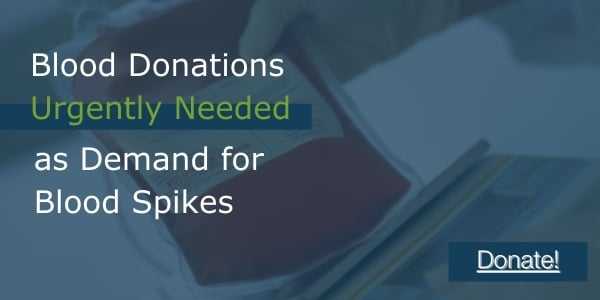 A critical national blood shortage has prompted urgent calls for donations from blood centers across the country. According to the AABB Interorganizational Task Force on Domestic Disasters and Acts of Terrorism, the blood supply in the United States has dropped to "red" level, meaning most blood bank inventories have fallen below a critical threshold.
The shortage of blood products could affect many Americans. If blood is not available when it is needed, there is a negative impact on patient care. Elective surgeries might have to be postponed, and there are concerns about providing the supportive care needed by cancer patients undergoing chemotherapy.
A recent Fortune magazine article titled "How the U.S. ended up in a serious blood crisis" describes the long term pressures faced by the blood banking community, and how COVID-19 has exacerbated these difficulties. Large scale blood drives remain a challenge, and community blood drives at businesses, schools, and churches are not yet back up to their previous capacity. At the same time, demand for blood is spiking.
A recent news article quoted Dr. Claudia Cohn, chief medical officer of AABB as saying, "From a personal experience, as someone who has worked in the transfusion medicine field for many years, the current situation with the blood supply is the most concerning I have seen in my career."
Last month AABB, America's Blood Centers, and the American Red Cross issued a joint statement urging healthy individuals to make an appointment to donate blood. It states that "The majority of hospitals have resumed nonessential surgeries and patients throughout the U.S. are resuming treatment options that include the use of blood and blood components that were postponed during the past year. These factors and more have led to a rise both in the number of patients who need blood – and an increased need for eligible individuals to donate."
Other Blogs You Might Be Interested In...
Helmer Scientific supports blood centers and hospitals, the patients they serve, and their efforts to keep the blood supply safe. We would like to express our gratitude to all staff involved in collecting, processing, and transfusing blood therapies to treat patients and save lives. We are here to help you properly store and monitor your blood products.
Blood donations are essential to ensure it is possible to meet critical patient needs. Follow the link below to find a collection site in your community. Call or visit the site's website to schedule an appointment to donate.