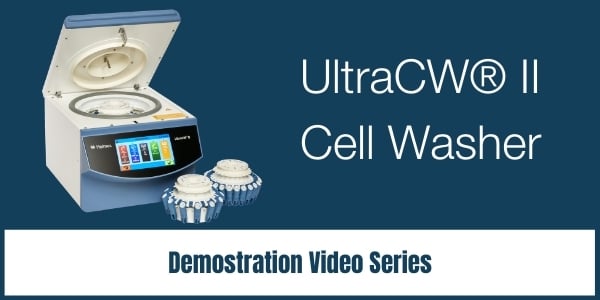 The UltraCW® II Automatic Cell Washer saves time and effort by automating the manual steps associated with pre-transfusion tube testing. The UltraCW® II is designed to provide precise, consistent, and reproducible cell washing results. It features an intuitive touchscreen user interface that includes pre-set programs and is also fully programmable.
The UltraCW® is very easy to install, operate, and maintain. To make using the cell washer even more convenient, we have developed a series of demonstration videos that walk you through various processes step-by-step.
Easy Setup
Unpacking and setting up the UltraCW® II is a simple process. An added benefit is the ability to place the saline below the unit.
Pre-Set Programs
The UltraCW® II offers a selection of pre-installed programs, including wash programs, a spin program, a refill pump program, and a flush program for easy cleaning.
Intuitive Programming
Users can quickly and easily create programs with the intuitive touchscreen user interface.
System Settings and Calibration
Convenient onscreen digital calibration offers easy and accurate control of saline volumes.
Product Cleaning
The convenient procedure uses bleach solution and distilled or deionized water, as well as the pre-set flush program, eliminating the need for manual cleaning and reducing downtime.
Other Blogs You Might Be Interested In...
For more information on what is important to consider when choosing a cell washer, download our Best Practices Guide for Selecting Automatic Cell Washing Systems.