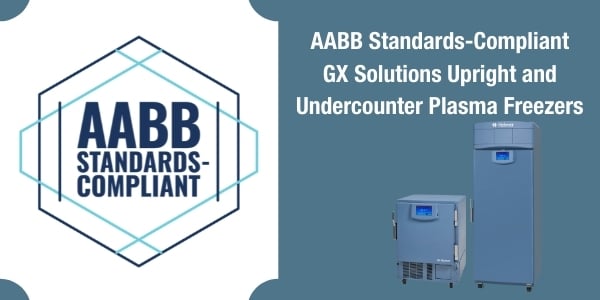 We're pleased to announce that GX Solutions upright and undercounter plasma freezers have achieved Standards-Compliant Product Evaluation (SCoPE) Program approval. AABB launched the SCoPE program in 2019 for vendors that serve the transfusion medicine community.
The SCoPE program was designed to recognize suppliers that demonstrate compliance with AABB Standards. It helps vendors develop a better understanding of AABB Standards and how blood bank professionals rely on their products and services to meet accreditation requirements.
Helmer Scientific was the first vendor to participate in the SCoPE program and multiple product categories have been approved as follows:
GX Solutions Plasma Freezers
GX Solutions Blood Bank Refrigerators
Pro Line Countertop Platelet Incubators and Agitators
UltraCW® II Automatic Cell Washing System
As described by Jay Lewis, Director of Marketing and Communications at AABB, "AABB's new Standards-Compliant Product Evaluation (SCoPE) Program will show membership that AABB holds vendors to the same standards as accredited institutions. It also shows how we all work together for donor and patient safety."
To qualify for SCoPE approval, technical documentation for these products must be reviewed by an AABB expert in standards and quality systems. In addition, the review looks at aspects of a vendor's Quality System that impact their ability to support customers' efforts to comply with AABB standards. SCoPE recognition signifies that a vendor is providing a valuable product for the transfusion medicine community that is backed by quality systems.
Other Blogs You Might Be Interested In...
AABB's Standards-Compliant Product Evaluation (SCoPE) Program was designed to benefit both vendors and customers by offering assurance that products for the blood community are in compliance with AABB Standards.
To learn more about the AABB Standards-Compliant Product Evaluation program, Helmer Scientific's participation and SCoPE recognized products, visit our website.
Note: As of March 2022, AABB has updated branding for this program, retiring the SCoPE acronym and referring to it as the AABB Standards-Compliant Products Program.