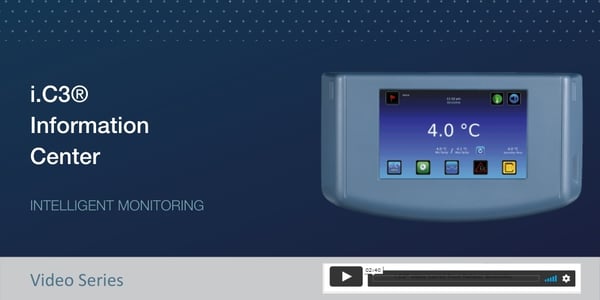 The i.C3® Information Center is a touchscreen user interface integrated into i.Series® blood bank refrigerators, plasma freezers, and Pro Line platelet incubators. It offers integrated control and monitoring for blood storage devices, along with temperature data, intelligent diagnostic information, and security features. It consolidates everything you need to know about the status of your storage device in one secure location.
AABB Standards require the storage temperatures of refrigerators, freezers, and platelet incubators be monitored. The i.C3® Information Center supports compliance by constantly monitoring the temperature inside a blood storage unit. High or low temperature alarms activate if the temperature exceeds or falls below the alarm limits. In addition, the i.C3® monitors other factors that could affect the temperature, such as door openings and power failure.
The i.C3® also offers Automatic Alarm Testing, which is a more efficient process than a manual alarm check. Not only does the auto-alarm test help improve efficiency, but a record of the test is created in the downloadable Event Log along with the temperature at which the alarm activated. Transfusion services can benefit from this functionality, which provides an electronic record that supports compliance with the CAP Transfusion Medicine Checklist requirement TRM.42750 on storage unit alarms.
The i.C3® also features an Interactive Temperature Graph, which provides a visual history of temperature performance along with shortcuts to the Event Log for details on alarms or other events. The Event Log includes Event Acknowledgment functionality, which enables the user to document the cause of the event along with the corrective action taken, creating a permanent record that is included in the download of the Event Log.
In addition, optional Access Control can prevent unauthorized entry into storage devices, along with tracking door openings. Pro Line platelet incubators also include a special feature called AgiTrak™, which provides monitoring for the platelet agitator installed in the incubator.
A series of videos has been created to demonstrate the major functions of the i.C3® Information Center. The series illustrates the following features of the i.C3®:
Overview
Event Log
Download
Automatic Alarm Testing
Interactive Temperature Graph
Access Control
AgiTrak (Pro Line platelet incubators)
Other Blogs You Might Be Interested In...
The i.C3® supports transfusion services and blood centers in their efforts to meet regulations for storing blood products. To make it easy to learn about the benefits of the i.C3®, we have gathered all the videos in the series on a single web page.