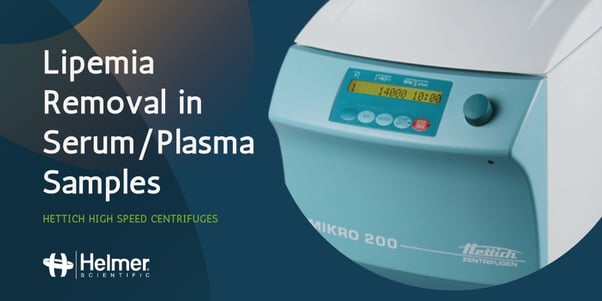 Ultracentrifuges are an expensive solution for processing lipemic samples, especially when many facilities process them only a few times a week. In addition, sending out lipemic samples can result in sample misplacement and take days to obtain outcomes, while reagents or additives can interfere with measurement results.
With Hettich high-speed micro centrifuges, your lab can achieve accurate results while saving time and reducing expenditures on equipment. You also get more from your low-cost investment. Hettich high-speed microcentrifuges have multiple rotors and accessories, making these units a versatile addition to your laboratory as a primary or backup centrifuge.
Hettich high-speed centrifuges are the low-cost alternative for lipemia removal in serum/plasma samples:
Save thousands in equipment cost compared to ultracentrifuges
Successfully clear lipemic samples with no reagents or additives
Process your samples in-house and eliminate send-outs
Gain versatility for multiple applications with rotor options and a compact footprint
Other Blogs You Might Be Interested In...
Helmer Scientific supports clinical laboratories, the patients they serve, and their efforts to ensure accurate test results. We would like to express our gratitude to all staff involved in the diagnostic testing that is critical for treating patients and saving lives. We are here to help you process samples and properly store your critical materials during the COVID-19 pandemic.
To learn more about high-speed microcentrifuges for lipemic samples, view the Hettich MICRO high-speed centrifuge one-pager for Lipemic Samples at the link below.