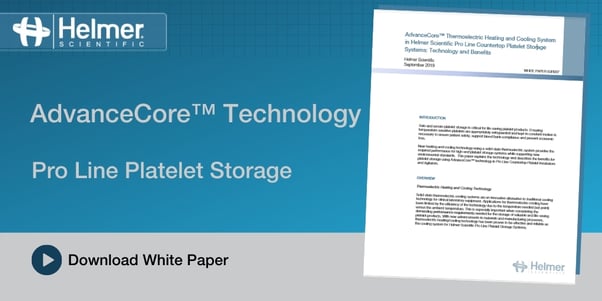 For many cancer patients and those suffering traumatic injuries, platelets are an essential life-saving therapy. The blood bank community constantly strives to make sure an adequate supply of platelets is available to keep up with demand. For this reason, platelet storage equipment must provide both the optimal conditions required for platelet storage and reliable performance.
Pro Line Countertop Platelet Storage Systems from Helmer Scientific utilize an innovative approach to maintaining the temperature range required for platelet storage. AdvanceCore™ technology, incorporated into the design of Pro Line platelet incubators, uses a specially designed solid-state thermoelectric cooling and heating system rather than a compressor to maintain the correct temperature range.
AdvanceCore™ provides optimal storage conditions for platelet products. Temperature uniformity of +/1° C is always maintained, ensuring safe storage and regulatory compliance. In addition, Pro Line Platelet Storage Systems have been designed and tested for long-term reliability and performance under ISO 13485 certified, FDA GMP compliant research and development processes.
Beyond the benefits of excellent temperature uniformity and dependable operation, AdvanceCore™ technology reduces energy use, which in turn can help support facility sustainability initiatives. The Pro Line systems with AdvanceCore™ also operate quietly, reducing noise in the blood bank and contributing to a more comfortable workplace for staff.
Other Blogs You Might Be Interested In...
Helmer Scientific supports blood centers and hospitals, the patients they serve, and their efforts to keep the blood supply safe. We would like to express our gratitude to all staff involved in collecting, processing, and transfusing blood therapies to treat patients and save lives. We are here to help you properly store and monitor your blood products.
To learn more about the benefits of innovative technology applied to platelet storage, download our white paper, "AdvanceCore™ Thermoelectric Heating and Cooling System in Helmer Scientific Pro Line Countertop Platelet Storage Systems: Technology and Benefits."