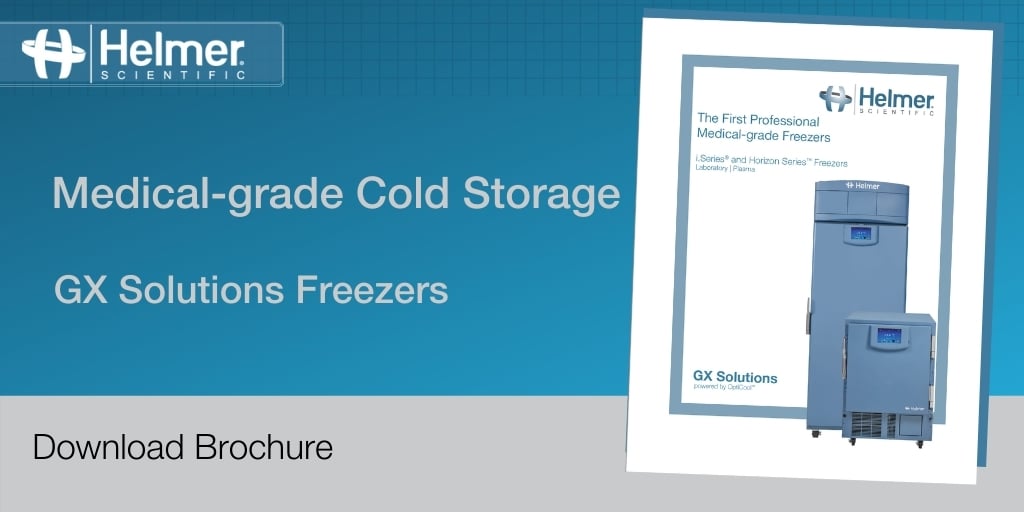 Plasma products are stored at frozen temperatures to preserve clotting factors and optimize shelf life. AABB Standards specify that plasma components should be stored at -18°C or colder. When stored within this temperature range, the expiration date is 12 months from collection.
GX Solutions plasma freezers from Helmer Scientific provide the reliable temperature-controlled storage blood banks need for safeguarding these critical products. In addition, these next generation plasma freezers deliver performance and sustainability, including optimal management of temperature, noise, and energy use.
Reliability
All Helmer units are designed and built to ensure they last for the long term, to limit down-time and disruptions to workflow. During the design process for GX Solutions freezers, thorough Accelerated Life Testing (ALT) was conducted to ensure reliability.
ALT identifies and addresses possible issues before equipment is released for general use. It exposes units to very high levels of stress to challenge the system, and ensures the unit's design can withstand the rigors of daily use through a 10-year life.
Performance
GX Solutions freezers are designed for critical healthcare applications such as the storage of plasma components. They excel in all three key areas of temperature management:
Uniformity: Temperatures are maintained within +/-2°C throughout the unit, providing confidence that plasma products are stored at the right temperature regardless of where they are placed within the storage space.
Recovery after door openings: Forced-air circulation keeps contents at the right temperature and ensures fast recovery after door openings.
Stability: This creates fewer deviations from the set point and avoids rapid, significant changes in temperature, ensuring that plasma products are always in their optimal storage environment.
Other Blogs You Might Be Interested In...
Sustainability
In addition to excellent performance characteristics, GX solutions plasma freezers support environmental sustainability. They utilize natural refrigerants that have no impact on ozone depletion and extremely low global warming potential (GWP).
GX Solutions plasma freezers also reduce energy use. They are ENERGY STAR® certified and are 35-45% more energy efficient than conventional medical-grade freezers. This helps lower the total cost of ownership by reducing electricity costs. They also eject less heat, limiting impact on heating, ventilation, and air conditioning (HVAC) systems.
In addition, GX Solutions plasma freezers offer lower noise levels than conventional plasma storage units. Quieter operation means fewer distractions and a more comfortable working environment for blood bank staff.
Helmer Scientific has offered high quality blood storage equipment for more than 40 years. We are excited to offer GX Solutions plasma freezers along with our GX Solutions blood bank refrigerators. To learn more about the benefits, click the link below to download our GX Solutions Freezer brochure: