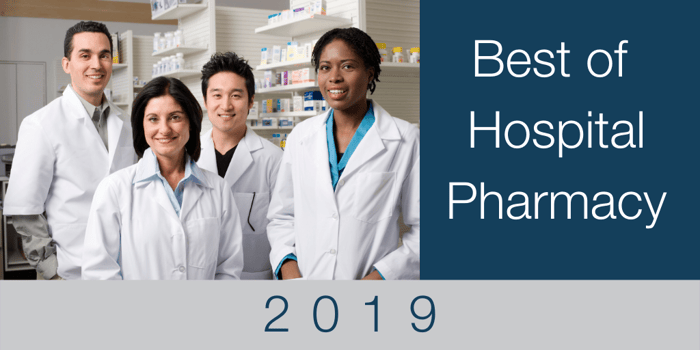 Helmer Scientific has gathered the top ten pharmacy related posts from 2019. Popular hospital pharmacy topics include USP <1079>, <797> and <800> compliance along with medication safety related posts such as tips for reducing medication errors. Helmer's goal is to continue to educate and inform you on all things related to the storage of vaccines, medications, and pharmaceuticals.
1. Seven Key Cold Storage Recommendations from USP <1079>
Many health systems and pharmacies are looking to upgrade cold storage units due to increased pressure from storage guidelines and recommendations as well as the high risks related to the improper storage of refrigerated drugs. USP <1079> outlines seven key recommendations to ensure your pharmaceutical storage units are always storing drugs safely within the manufacturer's recommended temperature range.
2. How the Revised USP Chapters <795> and <797> are Impacting Pharmacy
If the proposed version of USP general chapters <797> and <795> are implemented many facilities will be impacted. It is important to assess your current operations and determine if the changes in this article will have an impact on your hospital pharmacy.
3. USP <800> Compliance: 9 Webinars to Help You Prepare
The webinars are designed to quickly and efficiently give you the knowledge you need to tackle USP <800> which will be implemented December of 2019. Topics include budgeting, layout, construction, preparing for inspection, cleanroom certification, HVAC essentials, CPEC requirements, and PEC cleaning and decontamination.
4. Moses H. Cone Memorial Hospital's Inpatient Pharmacy Extends Services, Prepares for Regulation Changes and Enhances Workflows
The hospital recently underwent a full inpatient pharmacy renovation, along with other support services, to accommodate the addition of the new Cone Health Women's & Children's Center at Moses Cone Hospital. The pharmacy renovations were aligned to meet or exceed the recently revised compounding standards set by the United States Pharmacopeial Convention (USP).
5. Drug Storage Automation— Finding Solutions for your Refrigerated Products
In some locations, even at sites with automation, refrigerated medications (not stored in the automation) account for more than 50% of the total drug cost on the shelves. Having that kind of money stored on open shelving, without any security, either in Central Pharmacy or on Nursing units, can be risky and, in some cases, costly.
6. Interlock Pass-thru Pharmacy Refrigerators for Your USP <797> Clean Room
Introducing the market's first Interlocking Pass-through refrigerator with i.Lock™ technology from Helmer Scientific. The interlocking pass through refrigerator is designed to enhance pharmacy workflows, help maintain a cleaner compounding environment, and assist in USP <797> compliance.
7. Improving Refrigerated medication MANAGEMENT Safety and Security
In this blog post, we are discussing how Pharmacy Directors, Medication Safety Officers, and other healthcare personnel involved in the handling of refrigerated medications can improve refrigerated medication management from a safety and security perspective.
8. Reduce the Risk of Medication Management Errors
Within the dispensing step of the medication use process, there are several elements that should be considered to reduce the risk of errors. I find it is best to organize these into five main categories: Health Care Professionals, Tasks, Work Environment, Medications, and Equipment.
9. Reducing Refrigerated Medication Errors with New Technology
There is a wide range of technology to manage, track and secure medications stored at ambient temperatures, but not until recently was this technology available for refrigerated medications. Because of this, hospitals and other healthcare facilities have found it challenging to safely and securely store, dispense, and monitor refrigerated medications.
10. Vecuronium Errors & How to Mitigate Risk
Vecuronium and other neuromuscular blocking agents (NMBAs) can cause catastrophic injury and even death when administered in error. In 2017, a nurse accessed an automated dispensing cabinet (ADC) to retrieve a sedative for a patient about to have a PET scan. Instead of grabbing the 2 mg of Versed (midazolam, Roche), she accidentally grabbed the vecuronium. The vecuronium was administered to the patient which caused them to go into cardiac arrest.
Other Blogs You Might Be Interested In...
We look forward to keeping you up to date on news, regulation and information related to hospital pharmacy cold storage in 2020. If you have any suggestions for blog topics, please email marketing@helmerinc.com by following the link below. Make sure you subscribe via email to receive updates to your inbox.