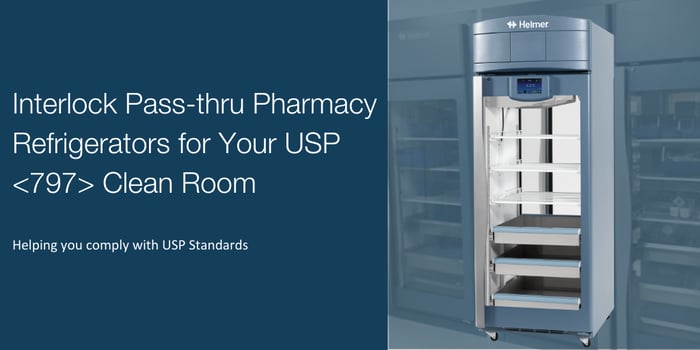 Introducing the market's first Interlocking Pass-through refrigerator with i.Lock™ technology from Helmer Scientific. The interlocking pass through refrigerator is designed to enhance pharmacy workflows, help maintain a cleaner compounding environment, and assist in USP <797> compliance.
Due to the interdependence of the various rooms or areas that make up a compounding facility, it is essential to carefully outline and control the dynamic interactions permitted between areas and rooms.
As described in USP <797>, a pass-through is defined as an enclosure with seals on interlocking doors that are positioned between two spaces for minimizing particulate transfer while moving materials from one space to another.
Airlocks and interlocking doors can be used to facilitate better control of air balance between a higher classified area and an area of lesser air quality, or between a classified area and an unclassified area.
USP <797> states that if a pass-through is used, it must only be opened one door at a time; both doors must never be opened at the same time.
The i.Lock™ technology from Helmer Scientific forces the electronic lock to engage on one side of the pass-thru cabinet when doors on the opposite side are open. Therefore, prohibiting both sides of the refrigerator from being open simultaneously.
Other Blogs You Might Be Interested In...
The Interlock pass-thru refrigerator from Helmer Scientific helps support compliance, maintain clean room air quality, and enhance pharmacy workflows.
For more information, please visit the link below.