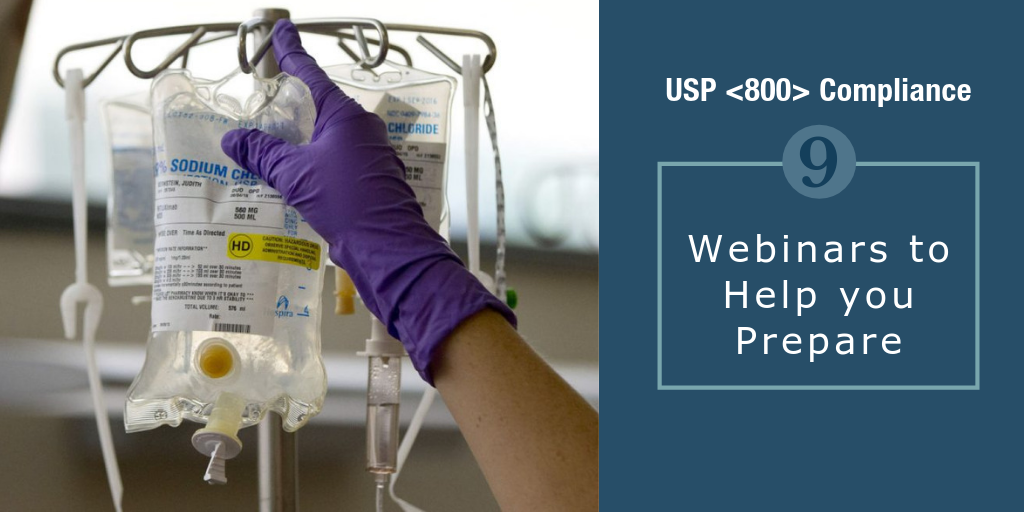 Pharmacy Purchasing and Products has been hosting various 20-minute webinars on important hospital pharmacy topics such as USP <800> guidelines and preparation. The webinars are designed to quickly and efficiently give you the knowledge you need to tackle USP <800> which will be implemented December of 2019. Topics include budgeting, layout, construction, preparing for inspection, cleanroom certification, HVAC essentials, CPEC requirements, and PEC cleaning and decontamination.
1. USP Compliance: PEC Cleaning and Decontamination
How to establish standard operating procedures (SOPs) for cleaning PECs, the level of detail required for these SOPs, and staff training requirements.
2. Cleanroom Design Under <800>: Cleanroom Layout
Learn the necessary elements to establish a cleanroom layout under USP <800>. Topics include door and pass-through placement, hood and refrigerator placement, air pressure relationships between the buffer room and ante-room.
3. Budgeting for <800> Compliance
Weigh the options of new construction versus remodeling, and other dilemmas that may be facing hospital pharmacies preparing for the December 1, 2019 deadline.
4. Engineering Control Options Under <800>
Bryan Prince reviews key design factors, negative pressure risks, and C-PEC considerations, such as filtration, exhaust, and the impact of C-PECs on air change requirements.
5. Cleanroom Design Under <800>: Preparing for Construction
In this webinar, learn to prepare for cleanroom construction under USP <800>. Topics include HVAC and ventilation requirements, strategies for communicating with engineers and facilities departments, and design tips.
6. Become USP <800> Inspection Ready
Is your clean room ready for USP <800> inspection? Learn what you need to know in order to prepare for inspection in this 20-minute webinar.
7. Cleanroom Certification for USP <800>
This webinar outlines what you need to know about cleanroom certification for USP <800> compliance.
8. HVAC Essentials Under USP <800>
Jim Wagner, President of Controlled Environment Consulting, presents HVAC essentials according to USP <800>.
9. Meet USP <800> CPEC Requirements
Guidance on CPEC choices, exhaust requirements, and filtration options in planning compliance to USP <800>.
These nine webinars hosted by Pharmacy Purchasing and Products will help you prepare for USP General Chapter <800> Hazardous Drugs – Handling in Healthcare settings which is set to be implemented December of 2019. If you have questions about your refrigerator and USP <800>, we have put together a post with information from the ASHP USP <800> Answer Book which you can find here. If you would like to watch recordings of the webinars above, follow the link below.
Other Blogs You Might Be Interested In...