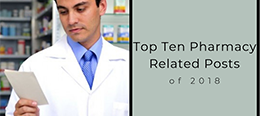 Helmer has gathered the top ten pharmacy related posts from 2018. Topics include USP 797 and 800 highlights, compliance, and a helpful eLearning course, Joint Commission 2018 medication management updates, shocking amount of flu related deaths 2017-2018, BD and Helmer collaboration, the CDC 2018 vaccine toolkit, how hospital noise affects patients, and dedicated storage for hazardous drugs.
USP <797> Highlight: Storage Conditions and BUD
The conditions under which a compounded sterile preparation (CSP) is stored play an important role in determining the beyond-use date. The BUDs described here are based on the risk of microbial contamination and assume that the CSP components can remain chemically and physically stable. Read More
Complying with USP <800>: Refrigerators in Your Negative Pressure
The new general chapter, USP 800 Hazardous Drugs in Healthcare Settings, has created a lot of confusion around what types of refrigerators are suitable for the hazardous drug room. Although there is no universal standard for a USP 800 compliant refrigerator, there are some important USP 800 guidelines to consider. Read More
Answers to your Refrigerator Questions regarding USP Chapter <800> Hazardous Drugs: Handling in Healthcare Settings
With General Chapter USP <800> creating quite the buzz, we are fielding tons of questions regarding refrigeration in the hazardous drug clean room. We have recapped some of the most common refrigeration questions. Read More
USP offers an eLearning course for General Chapter <800> Hazardous Drugs
USP released a self-paced, eLearning curriculum to help pharmacists and technicians better understand and implement USP General Chapter <800> Hazardous Drugs – Handling in Healthcare Settings. General Facilities are under pressure to comply with the new general chapter by December 1st, 2019. Read More
Joint Commission 2018 Updates for Medication Management
The Joint Commission identified four medication management standards often found to be non-compliant and described them with strategies addressing each, as well as two new listed requirements in medication-related standards. Read More
Experts Shocked at the Number of Influenza Related Deaths in 2017-2018 Season
Last year, the United States experienced the highest influenza death toll in at least four decades. An estimated 80,000 Americans died of the flu or flu complications last winter. The season peaked in February and finished by the end of March. Read More
BD, Helmer Collaborate to Introduce First Fully Integrated Refrigerated Automated Dispensing Solution
Becton, Dickinson and Company, a leading global medical technology company, and Helmer Scientific, a leading provider of integrated solutions to safeguard temperature-sensitive medications, announced a collaboration to introduce an industry-first, medical-grade refrigerated solution integrated with an automated dispensing system to provide secure, single line-item access to high-risk and high-valued refrigerated medications. Read More
CDC Releases the 2018 Vaccine Storage & Handling Toolkit
The Department of Health & Human Services urged the CDC to act and the first CDC Vaccine storage and handling toolkit was created in 2012. CDC has since released the 2018 Vaccine Storage and Handling Toolkit. It goes into great detail regarding vaccine storage and temperature monitoring equipment. Read More
How Hospital Noise Levels are Affecting Patient Healing and Satisfaction
Hospital noise levels are a major concern. Patients often complain that noise levels make it extremely difficult to get a good night's rest. Monitors, devices, phones, wheel chairs, carts, employees, and so on are all generating noise throughout the day and night. Many hospitals are creating plans to help reduce noise, so patients can rest and heal. Read More
Dedicated Storage for Hazardous Drugs
Hazardous drugs (HDs) are drugs that pose a potential health risk to healthcare workers involved in handling them. These drugs require special storage and handling due to their inherent toxicities. There are many potential routes of exposure to HDs. In order to further promote safety, USP requires dedicated storage for HDs, meaning refrigerated HDs must be stored in their own refrigerator. Read More
We look forward to keeping you up to date on news, regulation and information related to clinical storage in 2019. If you have any suggestions for blog topics, please email marketing@helmerinc.com by following the link below.