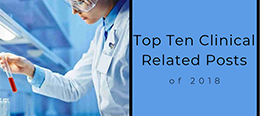 The top 10 clinical posts from 2018 have been gathered. Topics include troubleshooting and maintenance tips for ultra-low freezers, manual and auto-defrost impact and differences, new AABB standards, a helpful CDC self-assessment checklist for testing practices, our cell washer video series, and tips for centrifugation.
Ultra-Low Temperature Freezers – Troubleshooting and Maintenance Tips
It is essential to maintain your ultra-low temperature freezer to mitigate the risk of losing potentially irreplaceable samples or losing compressor efficiency over time. We are sharing several questions that have been previously addressed in a live webinar conducted by Mark Kehoe, Helmer Scientific Technical Services Representative, and Brian Hoaglan, Helmer Scientific Low Temp R&D Manager. Read More
Impact of Manual Defrost vs. Auto-defrost Freezers on Sample Temperature
Researchers and practitioners know that stable storage temperature is important to ensure viability for frozen biological materials. A common misconception is that auto-defrost freezers create an inappropriate environment for these laboratory materials compared to manual defrost freezers. We set out to evaluate the differences and performance for both manual defrost and auto-defrost technologies. Read More
AABB Releases New Edition of Standards for Blood Banks and Transfusion Services
AABB has released the 31st edition of Standards for Blood Banks and Transfusion Services. The new edition of Standards went into effect on April 1, 2018. Based on the most current thinking about quality and best practices in blood banking and transfusion medicine, Standards provides facilities with requirements that must be implemented to be accredited by AABB. Read More
CDC Provides Self-Assessment Checklist for Good Testing Practices with Refrigerated Product in Lab
The Center for Disease Control (CDC) provides an easy to follow Self-Assessment Checklist for Good Testing Practices. The checklist is designed for physicians, nurses, medical assistants, pharmacists, and others who perform patient testing under a Clinical Laboratory Improvement Amendments (CLIA) Certificate of Waiver. Read More
Helmer Scientific Launches Next Gen UltraCW® II Automatic Cell Washer
The UltraCW® II automates steps within typical tube testing blood bank workflows and is designed for precise, consistent, and reproducible blood cell washing results. The system also improves the user experience through the incorporation of a full-color touchscreen for intuitive and easy-to-use programming and operation.
6 Tips and Tricks for Successful Centrifugation
Centrifuges are used to spin liquid samples. Ensuring uniformity of your samples is one of the top priorities in achieving successful results. We've pulled together 6 Tips and Tricks to help ensure successful centrifugation results. Read More
We look forward to keeping you up to date on news, regulation and information related to clinical storage in 2019. If you have any suggestions for blog topics, please email marketing@helmerinc.com by following the link below.