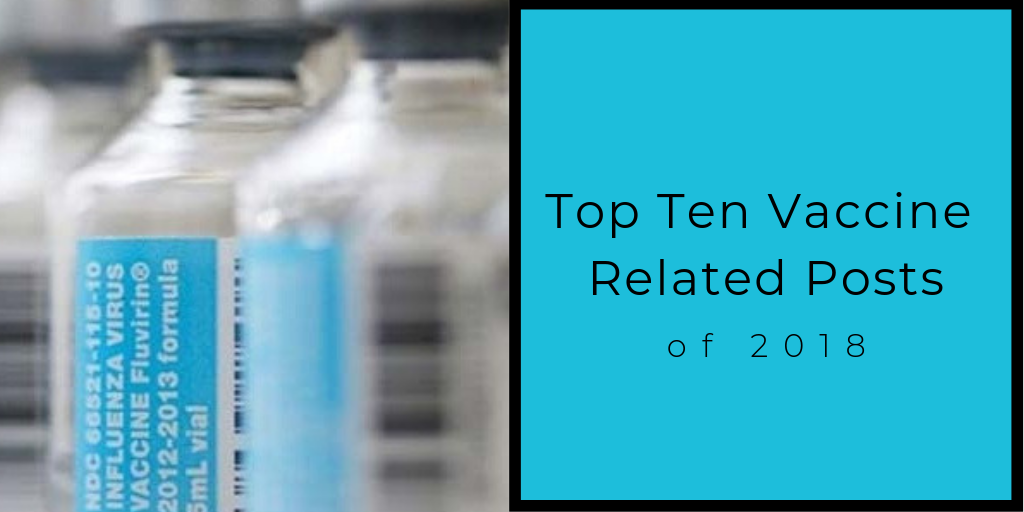 The top ten vaccine related posts from 2018 are here. Topics include the CDC's vaccine & handling toolkit, its 6 valuable sources and what is new in the 2018 version, and the CDC vaccine requirements. Experts shocked by flu season deaths, CDC warns the worst is yet to come, and FDA approved vaccine strains. Continuous temperature monitoring CDC recommendations, and a frightening wakeup call.
CDC Releases the 2018 Vaccine Storage & Handling Toolkit
The Department of Health & Human Services urged the CDC to act and the first CDC Vaccine storage and handling toolkit was created in 2012. CDC has since released the 2018 Vaccine Storage and Handling Toolkit. It goes into great detail regarding vaccine storage and temperature monitoring equipment. Read More
7 CDC Vaccine Temperature Monitoring Device Recommendations
CDC recommends using a continuous temperature monitoring device for each storage unit. These devices continuously monitor the temperature to ensure users are aware if there has been a temperature excursion. CDC gives its recommendations on what devices should include and what to stay away from. Read More
Experts Shocked at the Number of Influenza Related Deaths in 2017-2018 Season
Last year, the United States experienced the highest influenza death toll in at least four decades. An estimated 80,000 Americans died of the flu or flu complications last winter. The season peaked in February and finished by the end of March. Read More
6 Valuable Resources in the 2018 CDC Vaccine Storage and Handling Toolkit
The Center for Disease Control (CDC) released an updated version of the Vaccine Storage and Handling Toolkit. There are six valuable resources that can be viewed from comprehensive SOP worksheets, vaccine manufacturer/distributer contact list, to printable labels. Read More
Your Quick Hit List of CDC Vaccine Refrigerator and Freezer Requirements
The CDC Vaccine Storage and Handling toolkit outlines specific features for refrigerators and freezers being used for vaccine storage. Here is a quick hit list to ensure you are using refrigerators and freezers that keep your vaccines stored under optimal conditions. Read More
New Data Shows How Hazardous Drug Contamination is Putting Pharmacists and Nurses at Risk
Although the United States Pharmacopeial Convention (USP) pushed the implementation date of USP Chapter <800> out to 2019, new data provides a push to implement the chapter as soon as possible to diminish risk of hazardous drug exposure to pharmacists and nurses. Read More
FDA Committee Approves Influenza Vaccine Stains for 2017-2018
The Vaccines and Related Biological Products Advisory Committee of the US Food and Drug Administration (FDA) decided to follow the WHO recommendations for influenza vaccine composition in the northern hemisphere (NH). Three of the four strains remain the same as last year. Read More
The American Academy of Pediatrics Shares What's New in the 2018 CDC Vaccine Storage and Handling Toolkit
Credible organizations across the United States, like the American Academy of Pediatrics (AAP), rely heavily on the CDC Vaccine Storage and Handling Toolkit to help guide providers on the proper storage and handling of vaccines. The goal of adopting these guidelines is to ensure that vaccines are stored safely. Read More
CDC Speaks on this Difficult Flu Season and Warns the Worst is Yet to Come
The flu is a contagious respiratory illness with mild to severe symptoms that can sometimes lead to death. The influenza season began in October and activity is now widespread in 48 states and Puerto Rico. CDC warns that we still have a long way to go until the end of the season. Read More
Continuous Temperature Monitoring; A Frightening Wakeup Call
Due to increased pressure from organizations such as the Joint Commission, the Board of Pharmacy (one in each state), and the Centers for Disease Control and Prevention (CDC) healthcare providers are starting to move towards continuous monitoring of cold storage temperatures. Read More
We look forward to keeping you up to date on news, regulation and information related to clinical storage in 2019. If you have any suggestions for blog topics, please email marketing@helmerinc.com by following the link below.