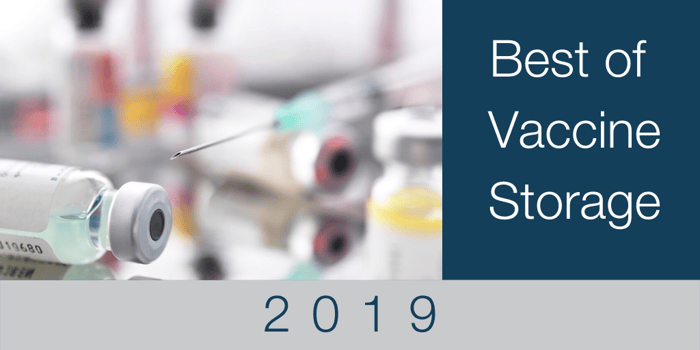 Helmer Scientific has gathered the top ten vaccine related blog posts from 2019. Vaccine storage and handling topics include influenza season, the CDC toolkit, temperature monitoring, and routine maintenance tips. Helmer's goal is to continue to educate and inform you on all things related to the proper storage and handling of temperature sensitive vaccines, medications, and pharmaceuticals.
1. A Look into the 2019-2020 Flu Season
Vaccines remain the best way to prevent the spread of influenza. Each year, submissions must be received months in advance to ensure the appropriate supply of influenza vaccine will be available when flu season hits the Northern Hemisphere.
2. CDC Vaccine Storage and Handling Toolkit 2019: Refrigerator and Freezer Recommendations
The Vaccine Storage and Handling Toolkit reflects best practices for vaccine storage and handling from Advisory Committee on Immunization Practices (ACIP) recommendations, product information from vaccine manufacturers, and scientific studies. The toolkit helps health care providers find the information they need quickly and easily.
3. CDC Toolkit 2019 Temperature Monitoring Recommendations
Every vaccine storage unit must have a TMD. An accurate temperature history that reflects actual vaccine temperatures is critical for protecting your vaccines. Investing in a reliable device is less expensive than replacing vaccines wasted due to the loss of potency that comes from storage at out-of-range temperatures.
4. Where to Properly Place a Temperature Probe in Your Vaccine Refrigerator
The CDC Vaccine Storage and Handling Toolkit outlines best practices for safely storing and handling your vaccines. One question that often comes up is, "Where is the correct location to position your temperature probe to ensure you are accurately measuring vaccine temperature?"
5. How to Handle Temperature Excursions: CDC Vaccine Storage & Handling Recommendations
Temperature excursions or inappropriate storage conditions for any vaccine require immediate action. Any temperature reading outside the recommended ranges in the manufacturers' package inserts is considered a temperature excursion. In general, manufacturers analyze information about the magnitude of the temperature excursion and the total amount of time that temperatures were out of range, as well as information about the vaccine in question, to determine whether a vaccine is likely to still be viable (CDC).
6. 14 Diseases You Almost Forgot About Thanks to Vaccines
Vaccines are amazing. In fact, vaccines are so amazing that many people have forgotten about a long list of diseases due to their effectiveness in protecting the population. The infographic below highlights 14 diseases such as diphtheria, chickenpox, tetanus, polio, and rotavirus that are often forgotten thanks to vaccines.
7. The Ultimate Guide to CDC Vaccine Storage and Temperature Monitoring
The toolkit outlines CDC Recommendations which are the minimal actions required to protect your vaccine supply as well as CDC Best Practice which outlines additional actions, practices and procedures to enhance protection of your vaccine supply. The Ultimate Guide provides everything you need to know about vaccine storage and temperature monitoring in an easy to digest format.
8. Routine Maintenance & Troubleshooting for Vaccine Storage Units
Conducting regular maintenance on your vaccine storage units is essential for keeping them in operation and giving them a long usable life. The CDC Vaccine Storage and Handling Toolkit gives great recommendations on how to properly maintain your vaccine storage units. The toolkit also provides instructions on how to troubleshoot equipment problems and handle alarms.
9. Is it Too Late to Urge Patients to Get the Flu Shot?
The best way to protect your patients from the flu is to administer them the flu shot, but is it too late to promote vaccination? The CDC recommends that everyone get the flu shot prior to the end of October each year, but it is never too late to encourage your patients to be vaccinated. According to the CDC, "As long as flu viruses are circulating, it is not too late to get vaccinated, even in January or later."
10. A Clinician's Guide to Anti-vaccination Parents
More and more parents are opting their children out of the regular vaccination schedule. "A study published by the American Academy of Pediatrics found that vaccine refusal by parents is on the rise. Pediatricians who had encountered at least one child patient with parents against vaccinations grew from 74.5 percent to 87 percent between 2006 and 2013 ¹."
Other Blogs You Might Be Interested In...
We look forward to keeping you up to date on news, regulation and information related to vaccine storage in 2020. If you have any suggestions for blog topics, please email marketing@helmerinc.com by following the link below, and make sure you subscribe via email to receive updates to your inbox.