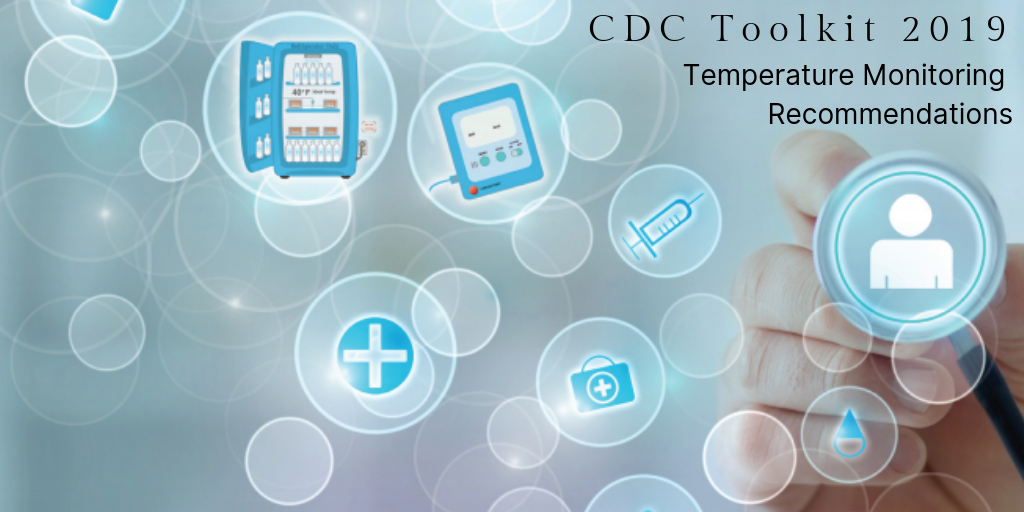 The revised 2019 Vaccine Storage and Handling Toolkit provides detailed recommendations around temperature monitoring best practices as well as temperature monitoring devices and calibration.
Temperature Ranges
Refrigerators should maintain temperatures between 2° C and 8° C (36° F and 46° F). Freezers should maintain temperatures between -50° C and -15° C (-58° F and +5° F). Refrigerator or freezer thermostats should be set at the factory-set or midpoint temperature, which will decrease the likelihood of temperature excursions. Consult the owner's manual for instructions on how to operate the thermostat. The only way to know the temperature where vaccines are stored is to measure and monitor it with a temperature monitoring device.
Temperature Monitoring Devices (TMDs)
Every vaccine storage unit must have a TMD. An accurate temperature history that reflects actual vaccine temperatures is critical for protecting your vaccines. Investing in a reliable device is less expensive than replacing vaccines wasted due to the loss of potency that comes from storage at out-of-range temperatures.
CDC recommends a specific type of TMD called a "digital data logger" (DDL). A DDL provides the most accurate storage unit temperature information, including details on how long a unit has been operating outside the recommended temperature range (referred to as a "temperature excursion"). Unlike a simple minimum/maximum thermometer, which only shows the coldest and warmest temperatures reached in a unit, a DDL provides detailed information on all temperatures recorded at preset intervals.
Many DDLs use a buffered temperature probe, which is the most accurate way to measure actual vaccine temperatures. Temperatures measured by a buffered probe match vaccine temperatures more closely than those measured by standard thermometers, which tend to reflect only air temperature.
Temperature data from a DDL can either be downloaded to a computer using special software or retrieved from a website. The software or website may also allow you to set the frequency of temperature readings. Reviewing DDL data is critical for vaccine viability, so it is important to decide whether independent software or a website program works best for your facility.
Keep the data for three years so it can be analyzed for long-term trends and/or recurring problems. Those receiving public vaccine may need to keep records longer as required by state regulations.
Use a DDL or other appropriate TMD for:
Each vaccine storage unit
Each transport unit (emergency or non-emergency)
Have at least one backup TMD in case a primary device breaks or malfunctions.
Use DDLs with the following features:
Detachable probe that best reflects vaccine temperatures (e.g., a probe buffered with glycol, glass beads, sand, or Teflon®)

Probes that are permanently embedded in a buffer are acceptable if the temperature monitoring system for the entire unit can be calibration-tested.

Alarm for out-of-range temperatures
Low-battery indicator

Since these devices are typically battery-operated, have a supply of extra batteries on hand.

Current, minimum, and maximum temperature display
Recommended uncertainty of +/-0 .5° C (+/-1° F)
Logging interval (or reading rate) that can be programmed by the user to measure and record temperatures at least every 30 minutes
Use DDLs with a current and valid Certificate of Calibration Testing
Certificate of Calibration Testing
Calibration testing is done to ensure the accuracy of a temperature monitoring device's readings against nationally accepted standards. A DDL's Certificate of Calibration Testing should include:
Model/device name or number
Serial number
Date of calibration (report or issue date)
Confirmation that the instrument passed testing (or instrument is in tolerance)
Recommended uncertainty of +/-0 .5° C (+/-1° F) or less
To determine if a Certificate of Calibration Testing or Report of Calibration was issued by an appropriate entity, check to see if the certificate indicates one or more of the following items about calibration testing:
Conforms to International Organization for Standardization (ISO)/International Electrotechnical Commission (IEC) 17025 international standards for calibration testing and traceability
Performed by a laboratory accredited by International Laboratory Accreditation Cooperation (ILAC) Mutual Recognition Arrangement (MRA) signatory body
Traceable to the standards maintained by the National Institute of Standards and Technology (NIST)
Meets specifications and testing requirements for the American Society for Testing and Materials (ASTM) Standard E2877 Tolerance Class F or higher
Refers to another acceptable accuracy validation method, such as comparison to other traceable reference standards or tests at thermometric fixed points
Calibration testing should be done every one to two years or according to the manufacturer's suggested timeline. TMDs can experience a "drift" over time, affecting their accuracy. This testing ensures the accuracy of the device continues to conform to nationally-accepted standards.
Mishandling a TMD can affect its accuracy. If a TMD is dropped, hit against the side of a storage unit, or is potentially damaged in any way, its accuracy should be checked against another calibrated TMD. If there is any question about accuracy, the device should be replaced or sent for calibration testing.
Monitoring Vaccine Temperature and Vaccine Equipment
Monitoring vaccine storage equipment and temperatures are daily responsibilities to ensure the viability of your vaccine supply and your patients. Implementing routine monitoring activities can help you identify temperature excursions quickly and take immediate action to correct them, preventing loss of vaccines and the potential need for revaccination of patients.
Certain types of TMDs have significant limitations and should not be used to measure temperatures in a vaccine storage unit.
These devices can be difficult to read because they only show the temperature at the exact time they are checked. These devices may fail to detect temperatures outside the recommended range. CDC does not recommend the following TMDs:
Alcohol or mercury thermometers (even if placed in a fluid-filled, biosafe)
Liquid vial Bimetal stem TMDs
TMDs used for food
Chart recorders
Infrared TMDs
TMDs that do not have a current and valid Certificate of Calibration Testing
Please note: Some devices sold in hardware and appliance stores are designed to monitor temperatures for household food storage. They are not calibrated and not accurate enough to ensure vaccines are stored within the correct temperature range. Using these devices can pose a significant risk of damaging vaccines.
All information in this blog post is directly from the 2019 CDC Vaccine Storage and Handling Toolkit
Helmer Scientific refrigerator monitoring devices conform to the International Organization for Standardization (ISO)/International Electrotechnical Commission (IEC) 17025 international standards for calibration testing and traceability. To learn more about our refrigerators and freezers with built in temperature monitoring devices, follow the link below.
Other Blogs You Might Be Interested In...