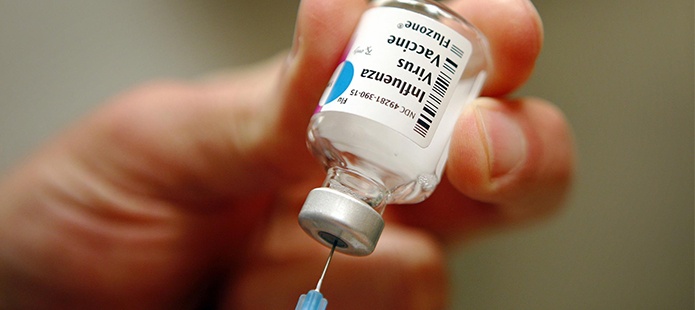 ---
The World Health Organization (WHO) convenes technical consultations in February/March and September each year to recommend viruses for inclusion in influenza vaccines for the northern and southern hemisphere influenza seasons, respectively.
The Vaccines and Related Biological Products Advisory Committee of the US Food and Drug Administration (FDA) decided to follow the WHO recommendations for influenza vaccine composition in the northern hemisphere (NH). Three of the four strains remain the same as last year.
A recommendation will be made in September 2017 relating to vaccines that will be used for the southern hemisphere 2018 influenza season. For countries in tropical and subtropical regions epidemiological considerations influence which recommendation (northern hemisphere or southern hemisphere) individual national and regional authorities consider appropriate.
Strain Recommendations
For trivalent influenza vaccines, the panel voted unanimously to include an A/Michigan/45/2015 (H1N1)pdm09-like virus; this is changed from A/California/7/2009 (H1N1)pdm09-like virus, but it is the same as 2017 southern hemisphere recommendations.
The panel voted 10-yes, 0-no, with 1 abstention to include an A/Hong Kong/4801/2014 (H3N2)-like virus, with no change from the previous season's NH recommendation; and 10-yes, 0-no, with 1 abstention to include a B/Brisbane/60/2008-like virus (B/Victoria lineage); there was no change from 2016-2017 NH recommendations.
For quadrivalent vaccines containing two influenza B viruses, the committee voted unanimously to add a B/Phuket/3073/2013-like virus (B/Yamagata) to the recommended trivalent vaccine strains. This recommendation was unchanged from the 2016-2017 NH recommendation.
Influenza Activity 2016-2017 Season
During the 2016-2017 influenza season, influenza A (H3N2) viruses were predominant in most countries. Most recent viruses were antigenically related to cell culture–propagated 3C.2a A/Hong Kong/4801/2014-like viruses.
Overall, influenza A(H1N1)pdm09 activity was low globally. Most recent A(H1N1)pdm09 viruses were indistinguishable from the present vaccine virus A/California/07/2009 and A/Michigan/45/2015 (vaccine virus for 2017 southern hemisphere).
B/Victoria/2/87 lineage viruses were the most predominant influenza B viruses in many countries in South America, Asia, and Eastern Europe. Most were closely related antigenically and genetically to B/Brisbane/60/2008 and B/Texas/2/2013.
In other regions, the levels of co-circulating B/Victoria and B/Yamagata lineage viruses were similar. Most recent B/Yamagata/16/88 lineage viruses were closely related antigenically and genetically to B/Phuket/3073/2013.
In the United States, there appears to be no clear way of predicting whether B/Victoria or B/Yamagata will be more prevalent in the coming season. Month by month, the two viruses cycle up and down, Jacqueline Katz, PhD, deputy director, Influenza Division, National Center for Immunization and Respiratory Diseases, Centers for Disease Control and Prevention (CDC), in Atlanta, Georgia, explained to the panel.
"Currently in the [United States]...B/Yamagata is edging out B/Victoria," Dr Katz said.
Vaccine Effectiveness
The current influenza vaccine has been 48% (95% confidence interval [CI], 37% - 57%) effective in preventing influenza-related medical visits in all age groups, the CDC reported on February 17. According to the report, the vaccine was 43% (95% CI, 29% - 54%) effective against influenza A (H3N2) viruses and 73% (95% CI, 54% - 84%) effective against influenza B–related illness.
For information on safe and effective vaccine storage, download our CDC Vaccine Storage and Handing Recommendations article.
All information in this article was derived from the following source:
11, 2017 Publish Date: March, and By: Eli Zimmerman ID Practitioner. "FDA Committee Approves Strains for 2017-2018 Flu Shot." Infectious Disease Practitioner. N.p., 22 May 2017. Web. 10 July 2017.