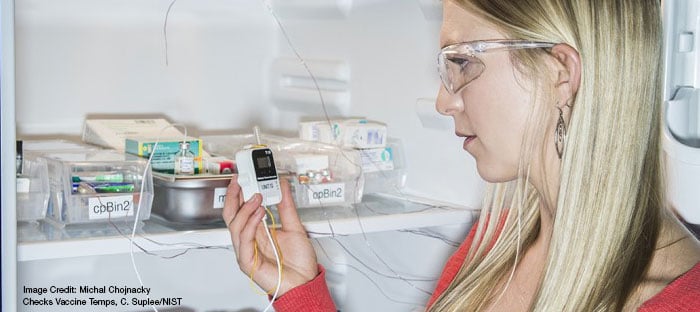 ---
CDC recommends using a continuous temperature monitoring device for each storage unit. These devices continuously monitor the temperature to ensure users are aware if there has been a temperature excursion. Min/ max thermometers only measure the warmest and coldest temperatures during a period of time. This does not provide enough detailed information to investigate how long the vaccines were out of range or what time of the day the excursion occurred.
CDC recommended devices which include the following:
Digital display on the outside of the unit that allows users to read the temperature without opening the door
Detachable probe housed in a bottle with a thermal buffer, such as glycol, to accurately reflect vaccine temperatures
Alert when temperature is out of range
Accuracy within +/-1°F(+/-0.5°C)
Low battery indicator
Continuous monitoring and recording capabilities
Display of current and min/max temperatures
Many medical-grade refrigerators have these temperature monitoring features built into the unit, as well as provide functionality that would be available with a digital data logger. Digital data loggers provide many of the same features as continuous temperature monitoring devices, but they also allow for the data to be downloaded and presented on a computer or retrieved from a website for further analysis.
Data loggers may also allow for the user to set the desired frequency of temperature readings and review minimums and maximums over a period of time. Reviewing and recording temperatures a minimum of two times each workday, as well as minimum and maximum temperatures since the last reading, is still recommended with the use of continuous temperature monitoring devices and data loggers.
Data should be downloaded and reviewed at least once per week. All facilities must keep an ongoing file of temperature data, hard copy and downloaded data, for three years.
CDC does not recommend the following temperature monitoring devices:
Chart recorders
Fluid-filled biosafe liquid temperature monitoring devices
Bi-metal stem temperature monitoring devices
Food-grade temperature monitoring devices
Household mercury temperature monitoring devices
Infrared temperature monitoring devices
Any device that is not calibrated
Looking for more information on CDC vaccine storage recommendations? Download our latest article on CDC recommendations for vaccine administration sites.