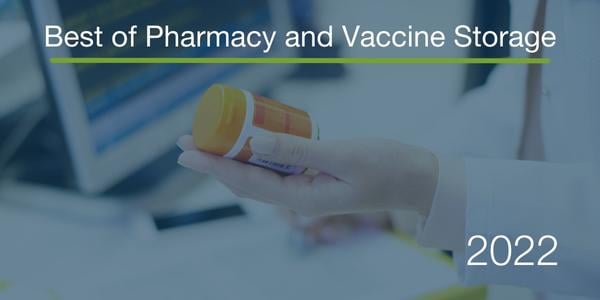 As we approach the end of the year, the Helmer Scientific team took an opportunity to look back at the blogs from this year. We have compiled a list of the top 10 pharmacy and vaccine-related posts from 2022.
Topics include updated regulatory requirements, ongoing support for COVID-19 prevention and treatment, effective service and preventative maintenance strategies, and proper vaccine and medication storage.
Explaining the NSF/ANSI 456 Vaccine Storage Standard
The first global standard for evaluating cold storage equipment used to store vaccines was developed by NSF, ANSI, and the CDC. Created with input from public health agencies, vaccine manufacturers, clinicians, and cold-storage equipment manufacturers, the NSF/ANSI 456 Vaccine Storage Standard provides clear guidance providers should follow when selecting refrigerators and freezers used to store vaccines.
Not Maintaining Cold Storage Equipment Creates Substantial Risks
Performing regular preventative maintenance and calibration activities on cold storage equipment used to store medication, vaccines, patient samples, and other critical materials supports patient safety and regulatory compliance, as well as reduces the financial risk associated with equipment failure.
Helmer provides solutions to support pharmacy workflows and ensure medical-grade refrigerators and freezers continue to meet performance requirements.
5 Best Practices for Proper Vaccine Storage in a Refrigerator, Freezer
The CDC and other public health organizations provide guidance on best practices for storing medication and vaccines. Topics include choosing the right equipment, properly, inventorying and arranging your vaccines in your refrigerators and freezers, and ensuring proper workflows exist to support requirements for programs like Vaccines for Children.
USP <797> Revisions Now in Final Review
This blog outlines the rationale behind and history of USP General Chapter <797> and highlights the major revisions recently adopted. Updates to USP <797> become enforceable November 1, 2023.
Helmer has solutions available to ensure sterile compounding clean rooms are able to meet clinical demands while adhering to compliance standards outlined in the forthcoming revisions.
Helmer Scientific Continues Expansion of GX Solutions; Adds Pass-Thru Refrigerator
Helmer has added pass-thru refrigerators to its GX Solutions portfolio. GX Solutions products utilize variable capacity compressors (VCC) and natural hydrocarbon refrigerants to deliver world-class temperature performance.
To ensure these refrigerators meet the rigorous demands of the compounding pharmacy, they have undergone extensive routine heavy use testing.
Preventative Maintenance Helps GX Solutions Perform At Their Best
Helmer Technical Services has found performing recommended preventative maintenance activities support patient safety and can save pharmacies thousands of dollars per year in loss.
This blog provides an overview of the necessary preventative maintenance for cold storage equipment and outline how Helmer can assist facilities in managing preventative maintenance programs for cold storage equipment, regardless of manufacturer.
The Water Bottle Debate
Historically, water bottles have been used as a thermal ballast in refrigerators and freezers used to store vaccines. As medical-grade refrigeration has transitioned to use microprocessor temperature management and forced air refrigeration technology, the need for thermal ballasts has been reduced. This provides increased efficiency and reduces the risk of temperature excursion, which is key in choosing the right equipment.
WHO Provides Simplified Process for Temperature Mapping Cold Storage Equipment
Regularly temperature mapping cold storage equipment ensures stored medications and vaccines are not exposed to temperature excursions. The WHO recently provided guidance on how to effectively and efficiently perform temperature mapping and what to do if equipment is not meeting temperature requirements.
BD Pyxis MedStation ES Named a Best Automated Dispensing Cabinet
Klas Research named the BD Pyxis™ MedStation™ ES as the Best in Klas Automated Dispensing Cabinet (ADC). The MedStation™ ES provides exclusive access to the MedStation™ ES Refrigerator from Helmer Scientific, which offers single line-item security for high-risk pharmaceuticals.
Attaching the ES refrigerator to the BD Pyxis™ Medstation ES provides efficiency by providing access to refrigerated and ambient temperature medications and vaccines in the same workflow.
What is the Impact of Inflation in the Pharmacy and How to Combat It
Inflation hit its highest point in 40 years in October. Already slim pharmacy margins have taken a hit, and facilities must find creative solutions to continue providing patient care while maintaining revenue growth targets.
Other Blogs You Might Be Interested In...
The Helmer team looks forward to continuing to support the pharmacy and vaccine storage segments in 2023 and beyond. Make sure to subscribe to the Helmer BlueView blog and/or newsletter to receive updates to your inbox.