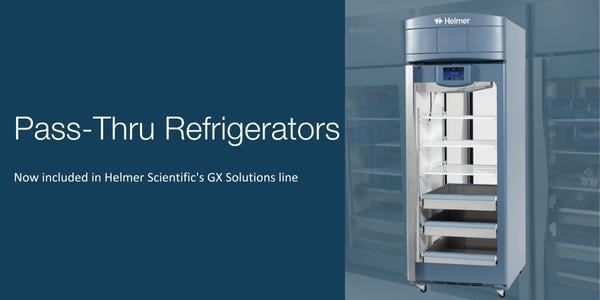 Helmer Scientific announces the launch of GX Solutions Pharmacy and Blood Bank Pass-Thru Refrigerators for clean rooms, pharmaceuticals, cancer therapies, blood therapies, research applications, and sample storage. Powered by OptiCool™ technology, GX Solutions are the first professional medical-grade refrigerators and freezers that are optimized for critical healthcare applications through temperature performance, noise reduction, and decreased energy use, while also using low Global Warming Potential (GWP) technology to support environmental sustainability.
NOBLESVILLE, Ind. (PRWEB) August 24, 2022 — Helmer Scientific, a leading manufacturer of cold storage products and processing equipment, has announced the expansion of the GX Solutions Cold Storage product line to include pass-thru refrigerators.
GX Solutions Pass-Thru Refrigerators include models designed for vaccines, pharmaceuticals, chemotherapy, whole blood, and blood components, as well as other clinical and research applications, in single- and double-door models.
GX Solutions Pass-Thru Refrigerators allow access from both sides of the unit for more convenient access to stored products. This is particularly useful when increased efficiency is desired when transferring contents between locations. When equipped with optional i.Lock™ Interlock Door Technology, which is exclusive to Helmer Scientific pass-thru units, the doors on one side are electronically locked when the opposite side is opened. This Helmer exclusive technology supports <USP> 797 compliant clean room environments.
Additionally, GX Solutions pass-thru models enhance pharmacy workflows when positioned between two spaces such as a clean room and an anteroom, and can prevent unnecessary technician entrances and exits to and from designated clean spaces.
For busy cleanroom compounding pharmacies with heavy ambient product loads, Helmer pass-thru refrigerators have undergone extensive testing to provide optimal refrigeration performance for safe dependable storage without nuisance alarms, even with frequent and extended door openings.
GX Solutions are powered by OptiCool™ technology and optimize temperature, noise, and energy management. Temperature performance is critical to quality and compliance for clinical applications.
GX Solutions excel in three key temperature management areas: uniformity, recovery, and stability. Achieving tight temperature uniformity throughout all storage locations within the unit helps ensure that clinical products, vaccines, or therapies are stored within the required temperature ranges. In addition, GX Solutions are designed to recover quickly after frequent or prolonged door openings that are common in busy healthcare settings. These units also maintain temperature stability using variable-speed compressor technology to limit overall temperature deviations to safeguard sensitive clinical and scientific products.
Helmer Scientific GX Solutions pass-thru refrigerators are designed to reduce noise, improving the work environment. They are quieter than conventional units, helping reduce disruption to both patients and healthcare staff.
These pass-thru refrigerators are up to 50 percent more energy efficient than conventional pass-thru refrigerators, which helps reduce operating costs and supports energy-use reduction initiatives. Heat output is also reduced by 30 percent compared to traditional refrigeration technology to limit HVAC system impact when units are installed in smaller rooms or alongside other equipment.
GX Solutions performance characteristics are achieved using OptiCool™ technology, which pairs variable capacity compressors (VCC) with natural refrigerants. In addition to energy efficiency, this technology uses refrigerants that are environmentally friendly and have no impact on ozone depletion. OptiCool™ technology also eliminates the use of gases targeted for reduction due to high Global Warming Potential (GWP) as defined by the US EPA Significant New Alternatives Policy (SNAP), Paris Climate Agreement, Canadian Halocarbons Regulation, and the EU F-Gas Initiative.
"Completing our GX Solutions expansion to include pass-thru models brings us full circle," said Brandon Russell, Senior Market Manager at Helmer. "Providing energy-efficient, high-performance cold storage across our product portfolio has been a priority at Helmer Scientific for decades. We are proud to continue supporting our customers across all applications with this new and innovative solution that makes it easier for clinicians to do their jobs and ultimately, puts the patient first."
Other Blogs You Might Be Interested In...
Helmer Scientific GX Solutions are available in pharmacy, laboratory, and blood bank refrigerator models, as well as laboratory/vaccine and plasma freezer models. For more information, please visit our website.