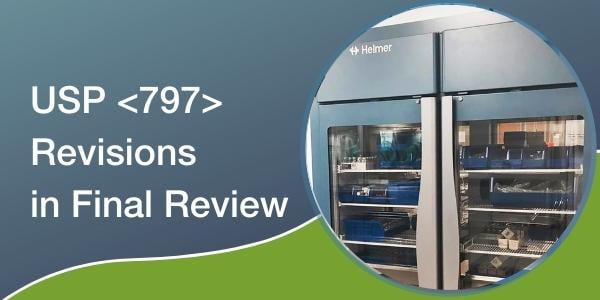 The deadline to submit comments related to proposed changes to USP <797> was March 17. This milestone signals the final opportunity for public comment before the chapter is adopted or revised again.
The goal of this chapter is to increase safety and efficacy related to compounded medications.
There is currently no timeline for adoption of the updated chapter; however, once approved, there will be a six-month implementation window defined by USP, after which the chapter will likely become enforceable by state pharmacy boards.
USP <797> is the first set of enforceable sterile compounding standards created by USP. First proposed in 2007 and adopted in 2008, the goal of USP <797> is to reduce negative outcomes related to compounded medication.
How did we get here? A USP <797> timeline:
1990: Four patients die after contracting a bacterial infection caused by non-sterile solutions compounded in a Nebraska hospital

1990: Two patients lose vision due to use of contaminated eye drops compounded in a community pharmacy in Pennsylvania

1998: Ten children contract blood infections after exposure to contaminated pre-filled syringes in a California hospital

2001: Four children develop infections after receiving contaminated IVs in a Missouri hospital

2002: Five patients in South Carolina receive contaminated steroids due to untrained compounding personnel

2004: Sixteen patients at a Maryland hospital contract hepatitis C after exposure to improperly prepared pharmacy equipment

2007: USP proposes USP <797>, placing an emphasis on training and evaluation of sterile compounding standards

2008: USP <797> is adopted

June 2019: First revisions to USP <797> proposed

Sept. 2019: Revisions to USP <797> postponed based on appeals

2021: Updated proposed revisions to USP <797> published for public comment
The major revisions to UPS <797> are focused on updates to beyond-use dates (BUD) for compounded sterile preparations (CSP). If the 2021 revisions are adopted as is, CSPs would be broken into three categories:
Category 1: may be prepared in a PEC in an unclassified segregated compounding area

Category 2: must be prepared in a cleanroom suite

Category 3: Additional requirements that must be met at all times
When a revised USP <797> is adopted, USP <800> will also become enforceable. USP <800> focuses on safe handling and storage of hazardous drugs to minimize the risk of exposure to healthcare personnel, patients, and the environment.
One of the major issues surrounding USP <797> once any proposed revisions become enforceable, is adoption and compliance.
In a 2021 survey, 7 out of 10 hospital pharmacies survey reported full compliance with the currently published standard. The same survey reports 83 percent of the currently compliant pharmacies do not yet meet all requirements to achieve full compliance with the 2019 standard.
While the 2019 revisions have been replaced, a member of the USP compounding expert committee said, "If people were ready for the 2019 version, they're fine with the 2021 proposed revision. There won't be any cataclysmic change from what they were expecting from the 2019 version."
Other Blogs You Might Be Interested In...
To support USP <797> compliance, clean room maintenance and management are key. The standard encourages facilities to limit risk of contamination by limiting what is stored in classified cleanrooms and limiting personnel with access to classified cleanrooms to only those completing compounding activities.
Pass-thru cabinets and refrigerators, especially those with electronic interlocking doors, help support those recommendations. Helmer Scientific has pass-thru refrigerators designed for USP <797> compliance.