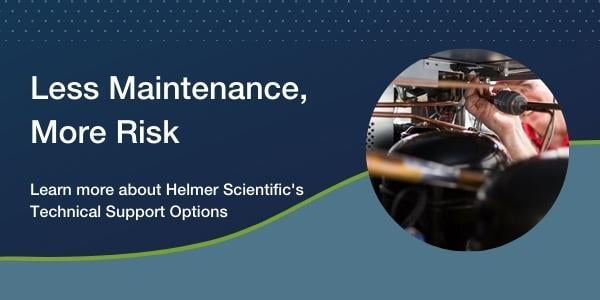 Refrigerators and freezers used in clinical settings to store medications and vaccines or biologics such as blood and patient tissue samples are vital components in ensuring these highly sensitive and highly valuable products and specimens remain safe and effective.
Professional medical-grade refrigerators and freezers should be used to store thermosensitive medications, vaccines, and biologics in all settings. Like all medical equipment, ensuring these units are regularly serviced and maintained is key to extending the usable life and reducing the risk of equipment failure.
Failure to perform preventative maintenance and regular calibration on all professional medical-grade refrigerators and freezers in service creates significant financial and patient safety risks.
Pharmacy
Pharmacies regularly maintain tens of thousands of dollars of refrigerated medication and vaccine inventory on hand. The mean single-refrigerator vaccine inventory is more than $24,000. In the specialty pharmacy space, that value can eclipse $1,000,000 of refrigerated medication and vaccine inventory in a single cabinet.
Temperature excursions due to equipment failure threaten the viability of vaccines and medications, potentially making them less effective and impacting patient safety, along with the financial risk pharmacies face due to vaccine and medication waste.
Blood Bank
Blood and blood products, such as plasma and platelets, are critical resources to ensure positive patient outcomes. We are still facing blood shortage issues. Unique challenges presented by the COVID-19 pandemic paired with an overall 10 percent decline in blood donations since March 2020 underscores the importance of protecting existing inventories to ensure availability.
Clinical Laboratory
In the clinical laboratory space, professional medical-grade refrigerators and freezers should be used exclusively in the storage of patient samples, which may be irreplaceable, and clinical trial specimens, which may represent thousands of hours and dollars in research efforts.
All reagents and other media used throughout the laboratory should also be stored in professional medical-grade cold storage. Using reagents or other thermosensitive media that have been exposed to temperature excursions to test specimens significantly increases the risk of obtaining erroneous results.
Helmer data has found 25 percent of historical unit failures could have been prevented with regular maintenance. This represents a significant financial savings across all applications and supports patient and clinician safety.
Other Blogs You Might Be Interested In...
Ensuring routine preventative maintenance and calibration activities are completed on all professional medical-grade cold storage units in service is a cumbersome activity. Often, these units are spread across several locations and are comprised of several brands and configurations. If internal resources are unavailable due to time constraints or lack of necessary training to maintain this type of equipment, a third-party partner should be utilized.
At Helmer Scientific, we are dedicated to ensuring pharmacy, vaccine, blood bank, and clinical lab cold storage solutions perform at their highest level. Our team of service technicians are available to quickly answer questions and resolve issues.
We are also available to consult and complete preventative maintenance activities for refrigeration and freezer units, regardless of brand.