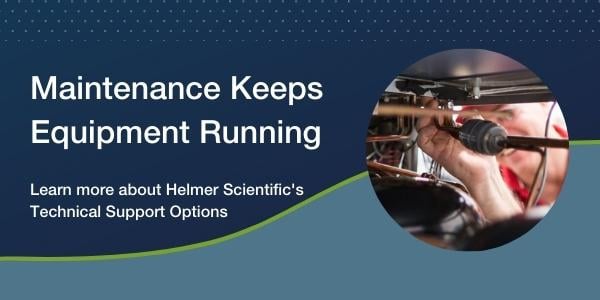 GX Solutions are the first professional medical-grade refrigerators and freezers designed and manufactured to meet the demanding requirements of daily use in pharmacy, clinical laboratory, and blood bank settings.
OptiCool™ Cooling Technology, developed by Helmer Scientific, is used exclusively in GX Solutions units. OptiCool™ Cooling Technology pairs a variable capacity compressor (VCC) with natural hydrocarbon refrigerants to ensure optimal temperature uniformity, recovery, and stability.
Along with their trusted temperature performance, GX Solutions are 50-65 percent more energy efficient and up to 3 times quieter than traditional medical-grade cold storage units. This level of performance provides world-class cold storage for the most valuable and sensitive samples, vaccines, and medications.
To maintain this high level of performance and reliability, GX Solutions refrigerators and freezers should regularly be serviced. Preventative maintenance is the regular and routine maintenance of equipment to keep it running and prevent costly unplanned downtime due to unexpected failure.
Helmer Technical Services found 25 percent of the historical equipment failures our customers have experienced could have been prevented with regular service. If regularly performed, preventative maintenance saves customers an average of $667 to $1,921 per service visit.
Formalized preventative maintenance schedules have become more common due to the increased emphasis pharmacies, blood banks, and clinical labs have placed on protecting their inventories and reducing the myriad risks that come with equipment malfunction or failure. Recent regulations such as the NSF / ANSI 456 Vaccine Storage Standard require manufacturers to supply calibration schedules or preventative maintenance schedules to ensure certified equipment continues to meet standard requirements for as long as it is in service.
Standard preventative maintenance for GX Solutions Refrigerators and Freezers should include:
Checking the door hinges and gaskets for signs of wear or damage

Ensuring all compressor components and coils are clear of debris and working optimally

Testing all electronic equipment to ensure continued functionality

Review of any historic alarm scenarios for repeated alarm alerts, which may be a sign of equipment malfunction
Formalized preventative maintenance plans should be developed for all in-service medical equipment. For specialized equipment, such as equipment that may require electrical, plumbing, or refrigeration service, it is important to ensure any service is performed by a qualified professional. Failure to do so may result in damage to the equipment and injury.
A best practice, where possible, is the consolidation and centralization of preventative maintenance activities. This ensures all equipment receives consistent comprehensive service and minimizes the possibility of equipment being missed during routine service.
Other Blogs You Might Be Interested In...
At Helmer Scientific, we are dedicated to ensuring pharmacy, vaccine, blood bank, and clinical lab cold storage solutions perform at their highest level. Our team of service technicians are available to quickly answer questions and resolve issues.
We are also available to consult and complete preventative maintenance activities for refrigeration and freezer units, regardless of brand.