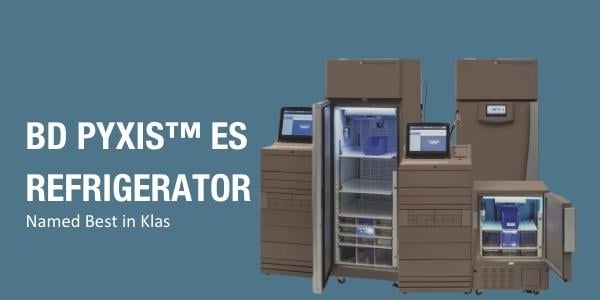 For the third year in a row, the BD Pyxis™ MedStation ES was named the Best in Klas Automated Dispensing Cabinet (ADC) for 2022 in the annual Best in Klas Software and Professional Service report published by Klas Research.
The report recognizes companies that excel in providing healthcare professionals with resources that improve patient care and outcomes. Report rankings are compiled based on feedback from thousands of healthcare providers, and a Best in Klas designation signifies a commitment to excellence and partnership provided by the vendor.
While ADCs are the primary means of medication distribution and documentation throughout most health systems, not all ADC platforms are the same. Something that sets the BD Pyxis™ MedStation ES system apart from other ADCs is the availability of the BD Pyxis™ ES Refrigerator with Helmer Access Technology, which is the first and only fully integrated automated dispensing solution to provide secure single line-item access to high-risk and high-value temperature-sensitive medications.
This integration allows full standardization, visibility, and access control of all medications, whether stored at ambient temperatures or refrigerated, in a single platform. This improves workflow efficiency, reduces the risk of dispensing errors and medication diversion, and supports regulatory compliance, enhancing patient care.
In addition to the workflow efficiencies and access control this solution provides, the BD Pyxis™ ES Refrigerator with Helmer Access Technology also delivers world-class professional medical-grade refrigeration engineered to meet the demanding needs of the pharmacy environment. Superior temperature uniformity, recovery, and stability ensure temperature sensitive pharmaceuticals stored in Helmer refrigerators remain safe and effective. Plus, the use of OptiCool™ refrigeration technology means increased energy efficiency and reduced environmental impact compared to conventional medical-grade refrigeration units.
Other Blogs You Might Be Interested In...
The BD Pyxis™ ES Refrigerator with Helmer Access Technology is fully configurable and provides options to meet most capacity and workflow needs. To learn more about access control features, workflow integrations, or configuration options, visit our website.