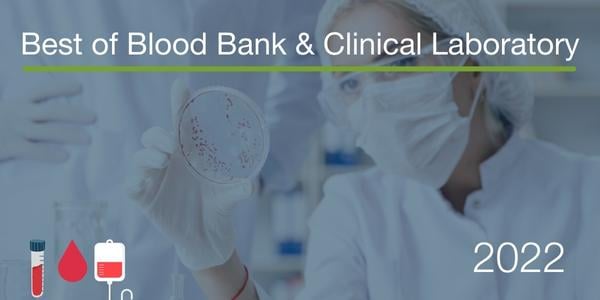 As we approach the end of 2022, the Helmer Scientific team looked back at our blogs from the past year and compiled a list of the top blood bank and clinical lab posts.
Popular topics included the importance of reliable temperature-controlled storage, how climate change impacts healthcare, and reducing cost of ownership with energy saving products. Within these posts you will find a variety of helpful resources such as videos, eBooks, and best practices guides.
Clinical Labs Continue to Work Through Workforce Shortage Challenges
The shortage of laboratory staff, which has been an issue for many years, is a major concern for clinical laboratory leadership. As the intensity of the SARS-CoV-2 pandemic has lessened, the scarcity of lab professionals is again becoming a primary topic of discussion. With clinical labs facing unprecedented challenges with staffing, poorly performing storage equipment is the last thing a lab manager should have to worry about.
Video: Convenient Alarm Checks with i.C3® Automatic Alarm Testing
For temperature-controlled storage equipment in the blood bank, it is important to activate the alarms on a regular basis. This quality control step supports the blood bank's quality management system and helps ensure alarms are functioning properly.
An automatic alarm test is a more efficient process than a manual test, saving blood bank staff valuable time and effort. The automatic alarm check also generates a record of the test along with the temperature at which the alarm activated, supporting compliance with CAP requirements.
GX Solutions and Reducing the Cost of Ownership in the Clinical Lab
Advances in cooling technology have made it possible to substantially reduce energy use while keeping sensitive laboratory materials within required temperature ranges. The use of environmentally friendly refrigerants with low global warming potential and efficient variable capacity compressors significantly reduces energy consumption while achieving optimal temperature management.
Staff Shortages Highlight Need for Reliable Platelet Storage
Reliable platelet storage is essential to blood centers and hospital transfusion services. Like many areas in health care, blood banks are struggling with staffing challenges. The widespread shortage of laboratory professionals in hospitals affects all departments, including transfusion service. Staffing shortages are also an issue for blood collection establishments. With blood banks having to do more with fewer staff members, unreliable storage equipment is the last thing a facility should have to worry about.
Clinical Laboratory Testing to Combat Long COVID
Laboratory testing plays an important role in diagnosing, characterizing, and identifying the cause of chronic COVID-19. Clinical lab testing for chronic COVID includes a range of assays, and labs must store temperature-sensitive patient specimens and reagents for these tests. To ensure accurate results (and reduce the risk of financial loss due to temperature excursions), it is important to use refrigeration designed for this purpose.
World Blood Donor Day 2022: Give Blood and Keep the World Beating
Countries around the world take part in World Blood Donor Day to emphasize the importance of blood donation and why healthy individuals should donate blood. Blood drives are set up at schools, institutions, and workplaces, including Helmer Scientific. Potential donors are educated about the blood donation process, its safety, and the contribution they can make toward saving someone's life. Find out where to donate blood in your community, and call or go online to schedule an appointment.
GX Solutions Undercounter Cold Storage Supports Operational Efficiencies
Compact undercounter refrigerators and freezers are useful for storing smaller volumes of products. They can also bring stored products such as reagents, samples, controls, and blood products closer to the point-of-use, supporting operational efficiencies. For example, if there is not enough space to place full-sized refrigeration near processing areas in the clinical laboratory, undercounter models may be an option to help limit staff trips to larger cold storage units.
Video: AgiTrak™ Monitoring for Platelet Agitators
To ensure platelet products are continuously agitated, it is important to monitor platelet agitators. Pro Line platelet agitators from Helmer Scientific are equipped with motion alarms. In addition, Pro Line countertop incubators feature the i.C3® Information Center with the AgiTrak™ monitoring system. The agitator and incubator are connected during installation, which enables AgiTrak™ to monitor agitation.
AgiTrak™ also enables users to access agitator settings and status information from the i.C3® interface on their incubator.
Healthcare Systems Consider Impact of Climate Change
Health system leaders are recognizing the threat presented by climate change and developing environmental sustainability plans for their organizations, with the goal of reducing the greenhouse gas emissions that contribute to global warming. One factor that has a clear impact on global warming is refrigeration.
Innovations in refrigeration technology have now been developed to make it possible for these units to maintain the tight temperature ranges required, while at the same time minimizing energy consumption, heat output, and global warming potential (GWP).
3 Factors to Consider When Selecting Freezers for Your Lab
In the clinical laboratory, the use of equipment designed for storing temperature-sensitive reagents and specimens is important for safeguarding their integrity and maintaining regulatory compliance. Freezers capable of storage temperatures of -20°C or below are needed for storing certain materials. Three factors to consider when selecting freezers for your lab are reliable performance, energy savings (which impacts the total cost of ownership) along with sustainability, and regulatory compliance.
OTHER BLOGS YOU MAY BE INTERESTED IN...
Helmer Scientific supports blood banks, clinical laboratories, and all your efforts to serve patients by keeping the blood supply safe and ensuring accurate test results.
We look forward to bringing you up-to-date information on news, regulations, and products for blood banks and laboratories in 2023. Be sure to subscribe to the BlueView blog and/or the Helmer Insights newsletter to have updates delivered to your inbox.