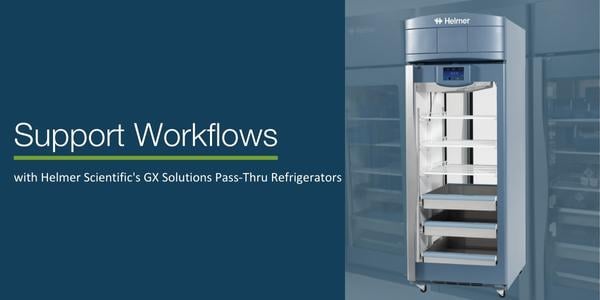 Helmer Scientific recently announced the launch of our GX Solutions Pass-Thru Refrigerators. Our next generation pass-thru models join the GX Solutions family of environmentally conscious, sustainability focused medical-grade cold storage.
Pass-thru refrigerators provide doors on both sides of the cabinet, enabling product to be loaded from one side and removed from the other. This is particularly useful when greater efficiency is desired for transferring contents between locations.
clinical laboratory
In the clinical laboratory, pass-thru refrigerators support efficient operations. Pass-thru models can enhance laboratory workflows when positioned between two spaces.
When placed between receiving and processing locations in the lab, a pass-thru refrigerator provides a temperature-controlled staging area. Pass-thru refrigerator contents can be efficiently loaded from the receiving side and unloaded from the processing side.
blood bank
In the blood bank, pass-thru refrigerators support efficient workflows. For example, a pass-thru refrigerator can be used to provide a temperature-controlled staging area between blood receiving and processing locations. In a hospital setting, a pass-thru refrigerator can provide separate access points for loading blood products into the refrigerator and dispensing them for transfusion.
Powered by OptiCool™ cooling technology, GX Solutions optimize temperature, noise, and energy management. For busy laboratory and blood bank environments, our pass-thru refrigerators have undergone extensive testing to provide optimal refrigeration performance for safe, dependable storage, even with frequent and extended door openings.
GX Solutions excel in three key areas of temperature management: uniformity, recovery, and stability. Achieving tight temperature uniformity throughout all storage locations within the unit helps ensure that blood products and laboratory materials are stored within the required temperature ranges.
In addition, GX Solutions are designed to recover quickly after frequent or prolonged door openings that are common in busy environments. These units also maintain temperature stability using variable-speed compressor technology that limits overall temperature deviations to safeguard sensitive products.
Helmer Scientific GX Solutions Pass-Thru Refrigerators are designed to reduce noise, creating a better work environment for blood bank and laboratory staff.
These pass-thru refrigerators are up to 50 percent more energy efficient than conventional pass-thru units, which helps reduce operating costs and supports initiatives for reducing energy use. Heat output is also reduced by 30 percent compared to traditional refrigeration technology, limiting HVAC system impact when units are installed in smaller rooms or alongside other equipment.
GX Solutions performance characteristics are achieved using OptiCool™ technology, which pairs variable capacity compressors (VCC) with natural refrigerants. In addition to energy efficiency, this technology uses refrigerants that are environmentally friendly and have no impact on ozone depletion, supporting facility sustainability initiatives.
Other Blogs You Might Be Interested In...
GX Solutions optimize temperature, noise, and energy management, and ensure optimum temperature performance even with frequent door openings and heavy ambient loads. GX Solutions Pass-Thru Refrigerators can enhance laboratory and blood bank workflows, supporting operational efficiencies.