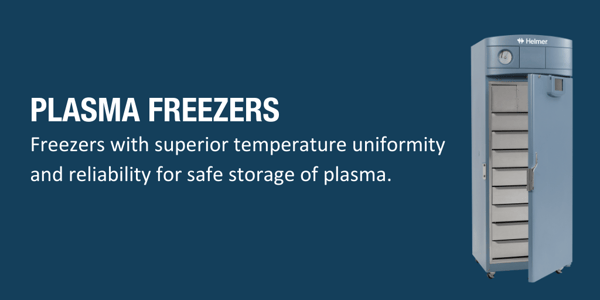 Plasma is the liquid component of the blood that transports blood cells throughout the body along with other vital substances, such as clotting proteins. Plasma is used to treat patients for a variety of medical reasons, including severe blood loss, liver disease, or cardiac surgery.
Plasma products are stored at frozen temperatures to preserve clotting factors and optimize shelf life. AABB Standards specify plasma components should be stored at -18°C or colder. When stored within this temperature range, the expiration date is 12 months from collection.
Plasma, like other blood components, is subject to supply issues, depending on blood type and regional demand for plasma products. Because plasma is a limited resource, proper storage to safeguard this life-saving therapy is essential. Four important considerations for selecting a plasma freezer are performance, reliability, regulatory compliance, and sustainability (including energy savings and a lower cost of ownership).
Performance
Optimal temperature management provides excellent temperature uniformity, stability, and recovery after door openings. GX Solutions Plasma Freezers from Helmer Scientific excel at temperature management. Tight uniformity provides confidence that plasma products are stored at the right temperature regardless of where they are placed within the storage space. Powerful forced-air circulation ensures quick temperature recovery after door openings.
Reliability
To limit downtime and disruptions to workflow, GX plasma freezers are designed and built to ensure they last for the long term. To ensure reliability, GX freezers from Helmer Scientific were developed with thorough Accelerated Life Testing (ALT).
ALT identifies and addresses possible issues before equipment is released for general use. It exposes units to very high levels of stress to challenge the system and ensures the unit's design can withstand the rigors of daily use through a 10-year life.
Regulatory Compliance
GX Solutions Plasma Freezers are designed to support facilities' efforts to follow AABB Standards. They support compliance by maintaining the proper temperature (below -18°C) and continuously monitoring and recording the temperature. They have also been recognized by the AABB Standards-Compliant Products Program.
Sustainability & Energy Savings
In addition to excellent performance characteristics, GX plasma freezers support environmental sustainability. They utilize natural refrigerants that have no impact on ozone depletion and extremely low global warming potential (GWP).
GX freezers also reduce energy consumption. They are 35-45 percent more energy efficient than conventional medical-grade freezers and are ENERGY STAR® certified. This helps facilities reduce utility costs and lowers the total cost of ownership. They also eject less heat, limiting impact on heating, ventilation, and air conditioning (HVAC) systems.
Other Blogs You Might Be Interested In...
Visit GX Solutions from Helmer Scientific for more information on the performance and benefits of professional medical-grade cold storage. To learn more about storage designed to support compliance while keeping your frozen plasma products safe, review our best practices guide.