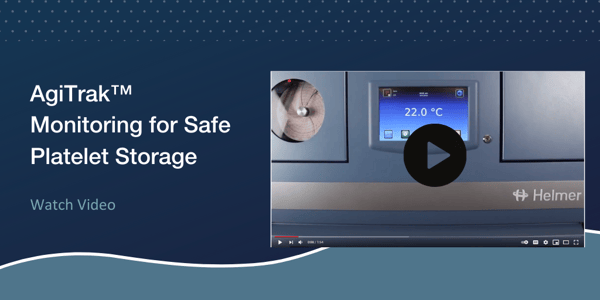 AABB Standards detail the requirements for storage, transportation, and expiration of various blood products. According to this guidance, most platelet components should be stored from 20-24°C with continuous gentle agitation. To achieve these storage conditions, platelet storage systems typically consist of an incubator that provides a temperature-controlled environment within the required range and an agitator that provides continuous gentle agitation.
To ensure platelet products are continuously agitated, it is important to monitor platelet agitators. The AABB Technical Manual (20th edition) states, "Because platelets must be gently agitated during storage, typically using horizontal flatbed or elliptical rotators, alarm systems should also emit alerts when the platelet agitator has malfunctioned."
To help facilities comply with this guidance, Pro Line platelet agitators from Helmer Scientific are equipped with motion alarms. In addition, Pro Line countertop platelet incubators feature the i.C3® Information Center with the AgiTrak™ monitoring system. The agitator and incubator are connected during installation, which enables AgiTrak™ to monitor agitation.
If agitator motion stops for more than a specified period, an alarm is activated on the incubator's i.C3® user interface. This helps ensure blood bank staff can hear the alarm, and it creates a record of the alarm in the event log. The event log can be downloaded to provide documentation of the event.
AgiTrak™ also enables users to access agitator settings and status information from the i.C3® interface on their incubator. The agitator status screen provides real-time information on agitation speed and cycle count and enables the cycle count to be reset. In addition, AgiTrak™ provides a graph of the agitator speed and a cycle count history, along with a diagnostics screen that summarizes settings and provides a lifetime cycle count.
To learn more, watch our video for a demonstration of the AgiTrak™ functionality included in Pro Line platelet incubators.
Other Blogs You Might Be Interested In...
Helmer Scientific supports blood centers and hospitals, the patients they serve, and their efforts to keep the blood supply safe. We would like to express our gratitude to all staff involved in collecting, processing, and transfusing blood therapies to treat patients and save lives. We are here to help you properly store and monitor your blood products.
A series of videos has been created to demonstrate the major functions of the i.C3® Information Center and gathered on a single web page for your convenience. View the series to learn more about the capabilities of the i.C3®.