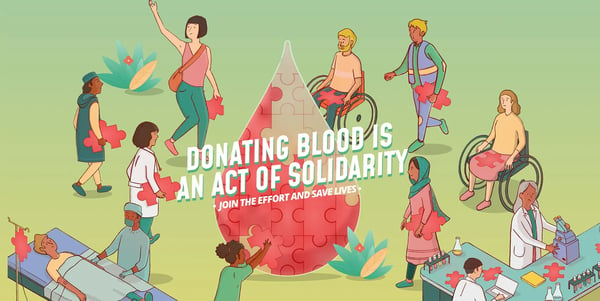 World Blood Donor Day is celebrated by organizations around the world annually on June 14. Blood transfusions are essential to helping patients survive surgeries, cancer treatment, and traumatic injuries. The purpose of dedicating a day to thank donors is to raise global awareness of the critical need for safe blood. World Blood Donor Day also highlights the important contribution that unpaid volunteer donors make to their national health systems.
Having a safe and adequate blood supply is important in every country around the globe. Currently, many developed countries are able to rely on voluntary, unpaid donors to support a blood supply that is sufficient to meet patient needs. But finding these donors and ensuring blood safety is still a challenge in developing countries, since they may have to depend on paid donors or replacement donations from the patient's family.
The World Health Organization encourages countries to develop national blood systems that rely on voluntary, unpaid donors. This type of donation supports a safe blood supply because the presence of bloodborne pathogens tends to be the lowest in this group.
Countries around the world take part in World Blood Donor Day to emphasize the importance of blood donation and why healthy individuals should donate blood. Blood drives are set up at schools, institutions, and workplaces, including Helmer Scientific. Potential donors are educated about the blood donation process, its safety, and the contribution they can make towards saving someone's life.
The host country for World Blood Donor Day 2022 is Mexico, and the global event will be in Mexico City.
In honor of World Blood Donor Day, Helmer Scientific would like to express our gratitude for the generosity of blood donors around the world, as well as the blood center and hospital staff who collect, process, and distribute these life-saving therapies. Helmer also encourages anyone who is eligible to consider donating.
Other Blogs You Might Be Interested In...
Blood donations are essential to ensure it is possible to meet critical patient needs. Find out where to donate blood in your community, and call or visit their website to schedule an appointment. For donors in the U.S., AABB provides a Blood Donation Site Locator.