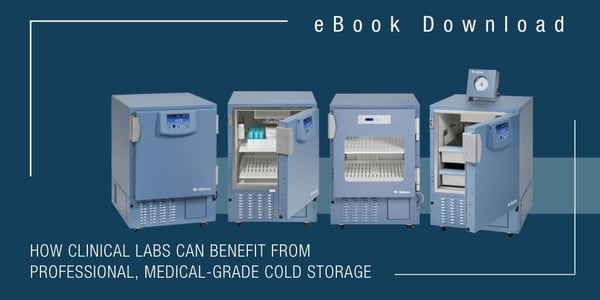 Helmer Scientific offers professional medical-grade refrigerators and freezers in a range of sizes to meet low to high volume storage capacity needs. Our compact undercounter units are useful for storing smaller volumes of products. They can also bring stored products such as reagents, samples, controls, and blood products closer to the point-of-use, supporting operational efficiencies.
If there is not enough space to place full-sized refrigeration near processing areas in the clinical laboratory, undercounter models may be an option to help limit staff trips to larger cold storage units. For blood products, remote storage at the point-of-use can be an efficient means of providing life-saving therapy where it is needed. For example, a hospital might store uncrossmatched Type O blood and thawed plasma in the emergency department for trauma patients.
For compact undercounter temperature-controlled storage in the clinical lab, Helmer offers GX Solutions professional medical-grade laboratory refrigerators and freezers. GX Solutions undercounter blood bank refrigerators and plasma freezers are available for the transfusion service.
GX Solutions deliver optimal management of temperature, noise, and energy use. Designed for critical healthcare applications, they excel in three key aspects of temperature management, including uniformity, recovery, and stability.
In addition to optimal temperature management, GX solutions undercounter refrigerators and freezers offer lower noise levels than conventional units. Quieter operation means fewer distractions and a more comfortable working environment for staff.
GX Solutions also reduce energy use. They are ENERGY STAR® certified and use significantly less energy than conventional medical-grade refrigeration, reducing electricity costs. They eject less heat as well, limiting impact on heating, ventilation, and air conditioning (HVAC) systems.
In addition to excellent performance characteristics, GX Solutions refrigerators and freezers are environmentally friendly. They utilize natural refrigerants that have no impact on ozone depletion and extremely low global warming potential (GWP). This helps hospitals reduce greenhouse gas emissions and supports facility sustainability initiatives.
Other Blogs You Might Be Interested In...
GX Solutions undercounter refrigerators and freezers help support operational efficiency and environmental sustainability. Our eBook provides a comprehensive look at how GX Solutions deliver professional, medical-grade solutions for critical storage in healthcare settings.