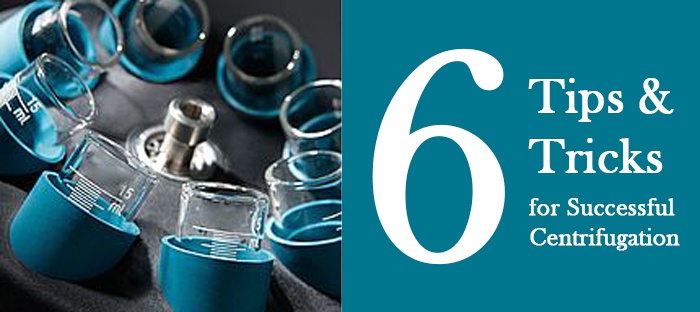 Centrifuges are used to spin liquid samples. Ensuring uniformity of your samples is one of the top priorities in achieving successful results. We've pulled together 6 Tips and Tricks to help ensure successful centrifugation results.
Select the Right Equipment- There are many types of centrifuges available, and it's important to select the right one to ensure the success of your spins and analysis. Some centrifuges are very specific in what they can accomplish, and others are general-purpose allowing you to complete many different types of centrifuge spins. Know what your application requires and research the available options before purchasing a centrifuge.
Use the correct tube size – The right size tube for the correct centrifuge is critical for successful centrifugation. The appropriate size tube prevents sample leakage or loss and allows for easy sample recovery. If using a tube adapter, ensure that the correct adapter is used. Determine if the recommended sample volume and maximum speed meet your protocols and ensure chemical compatibility with your sample. Using the wrong tube size can result in tube breakage and sample ruination.
Determine the appropriate RCF for your application – Your application will specify the degree of acceleration to be applied. The degree of acceleration is measured by relative centrifugal force (RCF). It is a unit-free value and is used to compare the separation and sedimentation performance. Use a RCF calculator such as the Hettich calculator here, to determine the RCF for your centrifugation cycle.
Select the right rotor - Once you've determined the correct RCF, select the rotor that will achieve the desired result. Rotors are designed to fit and work properly in a designated centrifuge. Some manufacturers offer rotor recognition that identifies the rotor and ensures it will work with the centrifuge.
Balance the Centrifuge Load- When placing tubes in the centrifuge, it is important that tubes are balanced to receive precise results. There are two factors to consider. First ensure that the sample tubes are at an equal volume. Second, make sure that the tubes are balanced within the centrifuge by placing tubes directly opposite of each other. If you are only spinning 1 tube or an uneven number of tubes, take an empty tube of the same size and fill it with water to the same volume. Then place opposite the sample tube.
Secure the Centrifuge Lid – Securing the centrifuge lid before centrifugation ensures a safe tight closure. Many centrifuges, such as Hettich, offer self-closing, auto-locking centrifuges which prevent the centrifuge from opening during a centrifugation cycle. This helps ensure a safe working environment in the lab.
Following these tips will help ensure your success when using a centrifuge. Thorough and consistent sample processing will provide dependable results. To see the complete line of high-quality, dependable Hettich centrifuges offered by Helmer, visit our website.