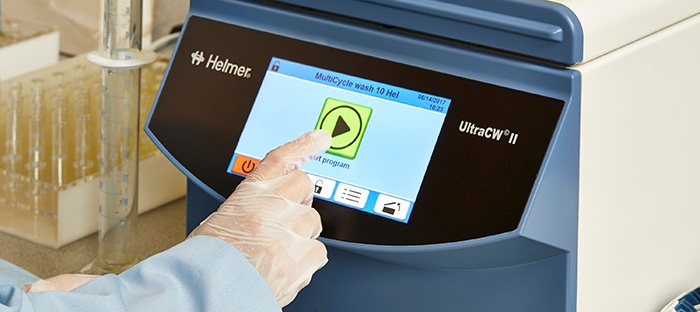 For our users' convenience, the UltraCW® II Automatic Cell Washing System from Helmer Scientific offers a selection of pre-installed programs. These include four wash programs, a spin program, as well as refill pump and a flush program for cleaning. We have created a video that illustrates how easy it is to use the UltraCW® II with the pre-set programs.
The four wash programs provide wash cycles for either 10x75 or 12x75mm tubes. In addition to typical cell washing processes such as Fill, Spin, Agitate, and Decant, the UltraCW® II features Loop and Check steps. The Loop step enables a sequence of processes to repeat. The Check step pauses the program and opens the lid, enabling the addition of reagents at the correct time. When the lid is closed, the program resumes with an agitation step and a quick spin at the end.
Watch our demonstration video to learn more about the pre-set programs that are installed on the UltraCW® II Automatic Cell Washing System.
Helmer Scientific has been serving the blood bank community for more than 40 years. We are here to support your efforts to properly store and process your blood products. If you have additional questions about your cell washer, the Helmer Technical Service team is available to help. Contact us at techservice@helmerinc.com or 800-743-5637. Or contact our sales team for more information on the UltraCW® II.
Other Blogs You Might Be Interested In...