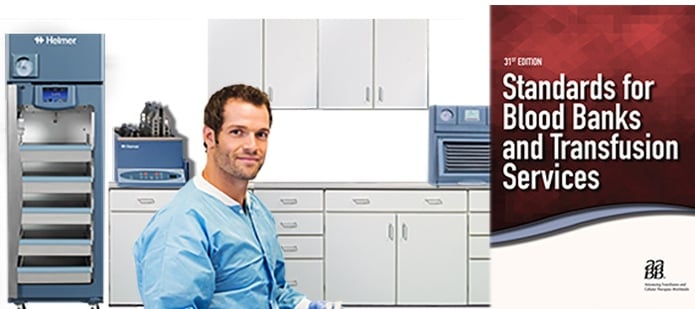 AABB has released the 31st edition of Standards for Blood Banks and Transfusion Services. The new edition of Standards went into effect on April 1, 2018. Based on the most current thinking about quality and best practices in blood banking and transfusion medicine, Standards provides facilities with requirements that must be implemented to be accredited by AABB.
New editions of Standards are developed every two years, with the newest edition becoming effective on April 1st every other year. Standards sets forth the minimum requirements that blood banks and transfusion services must follow to become accredited (or to maintain their accreditation). These standards are mandatory requirements for these facilities. They also tend to be adopted by other regulatory bodies such as The Joint Commission (TJC) and the College of American Pathologists (CAP).
Change to Maximum Time Without Agitation for Platelets
Standard 5.1.8A details the requirements for storage, transportation, and expiration of various blood products. For platelets, the maximum time without agitation is defined in this standard, along with requiring continuous gentle agitation and a temperature range of 20-24C. When platelets are shipped from place to place it is not feasible to keep them on a platelet agitator. Therefore, an allowance is made for the time they can go without agitation. Up until now, this time frame was 24-hours.
Over time, it was discovered that shipping delays are a common occurrence and that shipments of platelet products sometimes arrive just an hour or two beyond the 24-hour deadline. When this happens, a team has to be convened to evaluate the platelets and determine whether they are acceptable for use. (Because of the high value and short shelf life of platelet products, to simply discard them out of hand would be a terrible waste of a precious resource.)
So, the Standards committee set out to evaluate the 24-hour constraint. They found that a longer time frame without agitation had already been studied. This assessment concluded that platelet quality was maintained for up to 30 hours without agitation, supporting a change to the maximum time without agitation for platelets during transport.
Extending the maximum time without agitation from 24 to 30-hours will have a positive impact on the availability of platelet products, especially when inclement weather creates flight delays and cancellations. This means that more of this life-saving blood product will be available to patients.
Supporting Your Platelet Storage
At Helmer Scientific, we are always pleased with developments that positively impact our customers and the patients they care for. We have offered high quality platelet storage equipment for 40 years and are delighted to hear about advances that improve the availability of this precious, life-giving resource. We are here to support your efforts to properly store and monitor your platelet products.
You can find more information on Helmer products for Transfusion Services and Blood Centers on our website.
To obtain the 31st edition of Standards for Blood Banks and Transfusion Services, click the link below.
References
AABB Standards for Blood Banks and Transfusion Services, 31st Edition
Blood Bank Guy, 046: Top 5 Changes in the NEW AABB Standards with Pat Ooley. http://www.bbguy.org/2018/02/06/046/