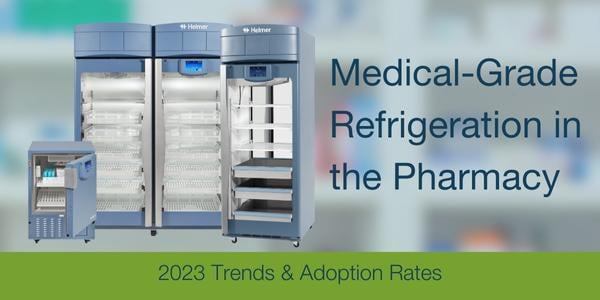 Helmer Scientific continues to be the most broadly utilized cold storage equipment manufacturer in the clinical pharmacy, according to a recent survey.
Data from the 2023 edition of the Pharmacy Purchasing & Products State of Pharmacy Automation survey has been published, and it includes information related to cold storage equipment adoption.
According to the survey, 50 percent of respondents use Helmer refrigerators and freezers in their pharmacies. This represents a two percent adoption increase over last year's results.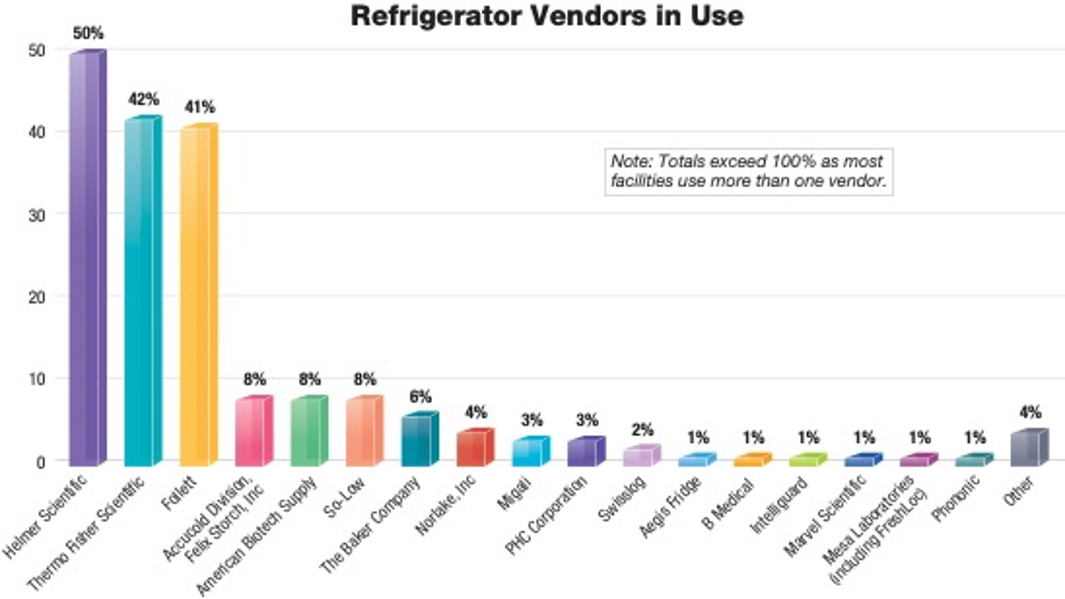 Graphic: PP&P
The increase in Helmer's market share coincides with an overall uptick in the broader adoption of medical-grade cold storage in healthcare facilities. In surveyed facilities, 96 percent utilize medical-grade cold storage equipment in some form to store temperature-sensitive medications and vaccines.
In the pharmacy, 88 percent of respondents use medical-grade equipment exclusively. When you look at on-the-unit data, that number drops slightly to 65 percent.
The prioritization of medical-grade equipment represents a continued focus on ensuring high-value, high-maintenance, medications and vaccines are stored and monitored appropriately.
Other Blogs You Might Be Interested In...
GX Solutions from Helmer Scientific are the first professional medical-grade refrigerators and freezers designed with the unique needs of healthcare facilities in mind.
Powered by OptiCool™ Cooling Technology, GX Solutions refrigerators and freezers utilize variable capacity compressors and natural hydrocarbon refrigerants to deliver optimal performance in three key areas:
Temperature Performance
GX Solutions are designed to provide world-class temperature uniformity, recovery, and stability. GX Solutions refrigerators have a uniformity standard of +/- 1°C while freezers have a uniformity standard of +/- 2°C.
OptiCool™ Cooling Technology also provides quicker temperature recovery after door openings to ensure inventory is stored at the appropriate temperature. This technology improves temperature stability, creating fewer deviations from the temperature setpoint, avoiding rapid, significant temperature deviations.
Noise Reduction
GX Solutions refrigerators and freezers are designed to reduce noise output by up to 60 percent compared to traditional medical-grade cold storage equipment. This creates a more comfortable environment for staff and patients.
Sustainability & Efficiency
GX Solutions refrigerators and freezers are ENERGY STAR® certified and are constructed using SNAP-compliant refrigerants and materials.
Choosing equipment that uses natural hydrocarbon refrigerants can help reduce global warming potential (GWP) by up to 99 percent compared to older refrigerator and freezer technology that use HFC refrigerants such as R134 or R404a.
GX Solutions have also undergone accelerated life testing (ALT) to ensure reliability and performance during a 10-year service life.
The continued adoption of professional medical-grade cold storage equipment in health system pharmacies represents a significant investment in promoting patient safety.
Helmer is proud to provide the tools pharmacists need to serve patients while supporting overall efficiency and sustainability goals within health systems.
GX Solutions refrigerators and freezers are available in sizes and configurations to mee the needs of all pharmacy applications. Visit our website to learn more about GX Solutions equipment and how it can positively impact your pharmacy operations.