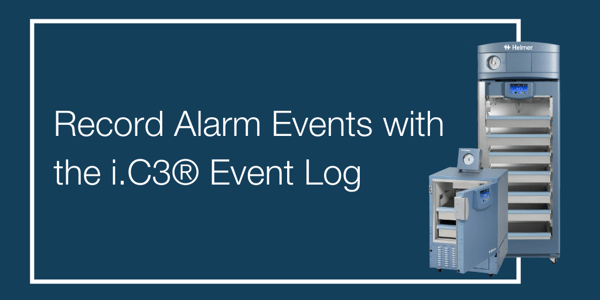 It is essential to constantly control and monitor the temperature of blood products in order to preserve their integrity. The i.C3® Information Center is integrated into i.Series® blood bank refrigerators, plasma freezers, and Pro Line platelet incubators from Helmer Scientific. It continuously monitors the temperature inside the storage area and enables users to check the status of the unit with a quick glance at the Home screen.
The i.C3® supports transfusion services and blood centers in their efforts to meet regulatory requirements. AABB and the College of American Pathologists (CAP) both state that temperature must be monitored and recorded. In addition, the CAP Transfusion Medicine checklist includes requirements for storage unit alarms.
Since the 2019 edition of the checklists, CAP has required that laboratories be able to clearly show the temperature at which the alarm activated during an alarm test. In 2020, TRM.42750 was updated to include electronic records and event logs as acceptable for this purpose (in addition to paper recording charts or graphs).
An important feature of the i.C3® is the Event Log, which records all alarm events. The event log shows the temperature at which the alarm activated. This information can be downloaded via USB and is available in a convenient PDF report format as well as a CSV data file.
Blood banks that implement i.Series storage products from Helmer Scientific can benefit from the event log functionality, as it provides an electronic record that supports compliance with the CAP Transfusion Medicine Checklist requirement TRM.42750 on storage unit alarms.
A series of videos has been created to demonstrate the features of the i.C3® Information Center. The video below provides a demonstration of the Event Log functionality included in the i.C3®.
Other Blogs You Might Be Interested In...
Helmer Scientific supports blood centers and hospitals, the patients they serve, and their efforts to keep the blood supply safe. We would like to express our gratitude to all staff involved in collecting, processing, and transfusing blood therapies to treat patients and save lives. We are here to help you properly store and monitor your blood products.
Watch our video for a demonstration of the i.C3® Event Log, and look for additional videos that will illustrate the major functions of the i.C3® Information Center.