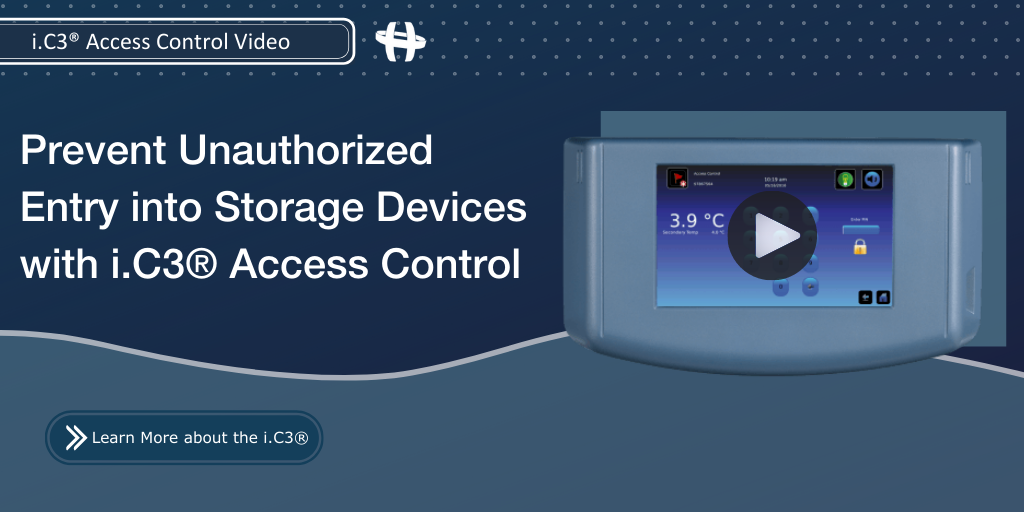 In certain scenarios it is important to control who can open the door and access the contents of a temperature-controlled storage device. For these situations, Helmer Scientific offers Access Control functionality. When a storage device is equipped with access control, an electromagnetic lock is integrated into the unit. The lock is controlled by entry of a Personal Identification Number (PIN).
i.Series® temperature-controlled storage equipment from Helmer Scientific features the i.C3® Information Center. The i.C3® is a touchscreen user interface that offers multiple functions, including access control capability. Access control is an optional feature for refrigerators, -30°C freezers, and Pro Line platelet incubators, and a standard feature for ultra-low temperature freezers.
With i.C3® access control, a supervisor administers the set-up of up to 100 individual User IDs and PINs. Only these users have the credentials to unlock the unit door. After an authorized entry into the unit, the door automatically re-locks, keeping the contents secure.
Door openings are tracked in the Access Log, including the username, date and time of access, and the length of time the door remained open. The Access Log can be downloaded via USB, providing a record of who accessed the unit and when. The Access Log can then be viewed and saved on a computer.
Stored products such as vaccines, medications, blood products, patient samples and reagents are valuable resources that are not inexpensive or easy to replace. Access control is beneficial whenever it is important to keep the contents of a storage device secure or to keep track of who is entering the unit.
Other Blogs You Might Be Interested In...
A series of videos has been created to illustrate the capabilities of the i.C3® Information Center. Watch our video below for a demonstration of the access control functionality of the i.C3®.
Look for additional videos that illustrate the major functions of the i.C3® Information Center on our BlueView blog