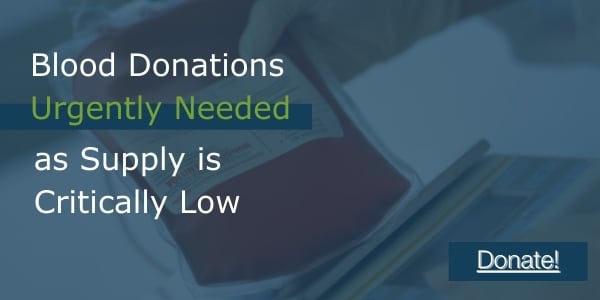 Since the beginning of the COVID-19 pandemic, the blood bank community has had to deal with unprecedented challenges to the blood supply, along with fluctuations in demand. Blood suppliers and hospitals have had to be flexible to manage the situation. Organizations that collect blood are doing everything possible to recruit donors and boost supply, while hospitals are responding with efforts to optimize transfusions and mitigate demand.
MedicalLab Management recently published the article "Navigating the Blood Supply During the COVID-19 Pandemic" which describes trends in blood supply and utilization starting with the early stage of the crisis. Initially, supply decreased as blood drives were curtailed. At the same time, demand was limited as elective surgeries were delayed. However, after a couple of months, the pace of elective surgeries picked back up, resulting in ongoing shortages.
The article provides examples of a hospital's mitigation strategies, including hospital-wide communications announcing anticipated shortages and encouraging a conservative approach to blood use. Orders for red blood cells were audited in advance to ensure they aligned with the appropriate hemoglobin threshold. These measures served to reinforce the hospital's existing patient blood management program (PBM).
Unfortunately, as the pandemic continues, maintaining an adequate blood supply to meet patient needs continues to be a challenge. Blood suppliers recently released a joint statement conveying the urgent need for blood donations. It states that the blood supply in the United States is dangerously low. This is especially concerning since fall is typically when the blood supply is relatively stable.
The joint statement goes on to say, "If the nation's blood supply does not stabilize soon, hospitals may be forced to alter treatment for some patients or cancel some patient surgeries. Blood donations are needed now to help maintain optimal care for all patients."
Other Blogs You Might Be Interested In...
Helmer Scientific supports blood centers and hospitals, the patients they serve, and their efforts to keep the blood supply safe. We would like to express our gratitude to all staff involved in collecting, processing, and transfusing blood therapies to treat patients and save lives. We are here to help you properly store and monitor your blood products.
Blood donations are essential to ensure it is possible to meet critical patient needs. You can find a collection site in your community online, and call or visit the site's website to schedule an appointment to donate.