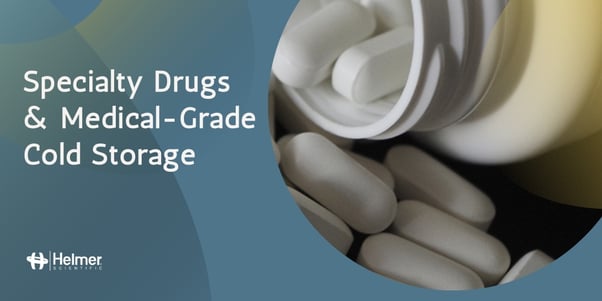 While there is no universal definition of a specialty drug, specialty drugs can be defined by having one or more of the following characteristics:
Complex to manufacture and store
Difficult to administer, often coming in injectable or infusible formulations (although oral specialty drugs are becoming more prevalent)
High in cost, both in total and per-patient cost
Challenging for patients to take without ongoing clinical support
Specialty drugs are the fastest growing category for pharmacy spend. It is expected that specialty drug spend could reach $310 billion by the end of 2030. In 2019, half of FDA approved drugs were specialty drugs and 75% of drugs currently in development are considered specialty.
As this trend continues, hospitals and pharmacies are beginning to integrate with medical practices, infusion centers and other patient care entities to create an integrated and comprehensive delivery network to provide access and enhanced patient care. Hospital pharmacies play a critical role in this delivery network and should be prepared to properly store and safeguard these high-cost drugs. Because of this, many pharmacies are now seeking accreditations from 4 agencies including, URAC, Accreditation Commission for Health Care (ACHC), The Center for Pharmacy Practice Accreditation (CPPA), and the Joint Commission. Accreditations can help pharmacies retain insurance contracts and maintain competitiveness.
To maintain accreditation and prevent negative financial impact, most agencies have strict guidelines and standards for pharmacies to follow, including the storage and handling of specialty drugs. URAC, which is considered the gold standard for accreditation, outlines the following components to promote effective handling, storage, and transportation of specialty drugs:
Ensure accuracy
Maintain product integrity
Implement a process to track shipments
Follow manufacturer-recommended transportation requirements
Create testing procedures for packaging products
Use the correct packaging products
Follow established packing instructions and manufacturers' storage requirements
Develop a plan to handle products in case of a breakdown in the distribution process
In addition to guidelines outlined by accrediting agencies, pharmacies should follow USP General Chapter <1079> guidance concerning storage, distribution, and shipping of Pharmacopeial preparations. This chapter describes essential procedures to maintain proper storage environments for temperature sensitive drugs to ensure a preparation's integrity from prep to administration. There is a vast set of testing data recommended to ensure temperature-controlled storage environments maintain appropriate conditions for temperature sensitive drugs. Understanding and measuring temperature uniformity, stability, and recovery ensures drugs are stored according to manufacturer instructions.
The use of medical-grade refrigerators, stability testing, uniformity testing, recovery testing, temperature monitoring, personnel training, and regular calibration will ensure drugs are stored within the recommended temperature ranges. Protecting high-cost specialty drugs with the use of medical-grade refrigeration can help to prevent excess waste, patient harm, and negative financial impact.
OTHER BLOGS YOU MIGHT BE INTERESTED IN...
To learn more about our GX Solutions line of medical-grade storage, download our GX Solutions eBook.
Sources:
https://www.pppmag.com/article/2462

https://www.pharmacytimes.com/view/pursuing-specialty-pharmacy-accreditation
https://payorsolutions.cvshealth.com/insights/a-look-at-specialty-pharmacy-dynamics
https://www.elsevier.com/clinical-solutions/insights/resources/insights-articles/drug-information/emerging-trends-in-the-specialty-drug-industry