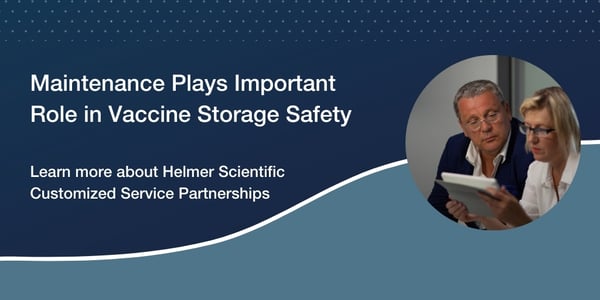 Safeguarding vaccines is important for a variety of reasons including patient safety, financial impact and compliance. Ensuring proper cold storage prevents costly temperature excursions, which could lead to vaccine waste and the need to revaccinate patients. It's also important to ensure your vaccine storage equipment meets facility compliance guidelines and even state regulatory requirements in the event of an audit.
The CDC outlines storage recommendations and requirements in their Vaccine Storage and Handling Toolkit, including mandatory requirements for Vaccines for Children Program providers. According to the CDC, an effective cold chain relies on these 3 elements:
A well-trained staff
Reliable storage and temperature monitoring equipment
Accurate vaccine inventory management
A well-trained staff
All staff members who receive or handle vaccines should be trained on vaccine handling and storage process for your facility. The CDC advises providers to develop clearly written and detailed standard operating procedures (SOPs) for your facility. SOPs should include general information, manufacturer information, equipment and service information, as well as monitoring procedures and an emergency backup plan in the event a vaccine storage unit fails.
Reliable storage and temperature monitoring equipment
Vaccine providers should use purpose-built or medical-grade units designed to either refrigerate or freeze. Purpose-built units are designed specifically for the storage of vaccines, biologics and other pharmacy / medical products that require cold storage. The CDC recommends utilizing a digital data logger (DDL) with a valid certificate of calibration to monitor the temperature of the unit. These DDLs should include out-of-range alarms, low-battery indicators, and a current, minimum, and maximum temperature display.
Accurate vaccine inventory management
Inventory management is essential for facilities to ensure appropriate vaccine ordering and stock, and to ensure vaccines are unpacked, stored, and monitored appropriately. To safely manage vaccine inventory, the CDC recommends facilities conduct routine maintenance on vaccine storage units and related equipment to ensure the equipment functions at maximum efficiency. Recommended maintenance includes:
Check door seals and hinges
Clean coils and other components per manufacturer instructions
Defrost according to manufacturer guidelines
Clean the interior to prevent bacterial or fungal growth
Testing and servicing on units should be done annually
Enhancing safety through service
Keeping with a service schedule can help extend the life of your vaccine storage equipment, prevent temperature excursions and in some cases, prevent total equipment failure. Consistent and routine maintenance can also help your facility reduce the risk non-compliance and unsatisfactory audits.
OTHER BLOGS YOU MIGHT BE INTERESTED IN...
Helmer can manage and perform routine maintenance on all medical-grade cold storage units through our Customized Service Partnership and Service Level Agreements. With a Service Level Agreement, customers can expect 24/7 emergency support, preventative maintenance from certified technicians, management of regulatory process for Certificates of Calibration, and maintenance record keeping.
Download our Customized Service Partnership Case Study to learn how our service partnership helped one large medical center improve clinical staff efficiency, support regulatory compliance and improve uptime of equipment across the network.