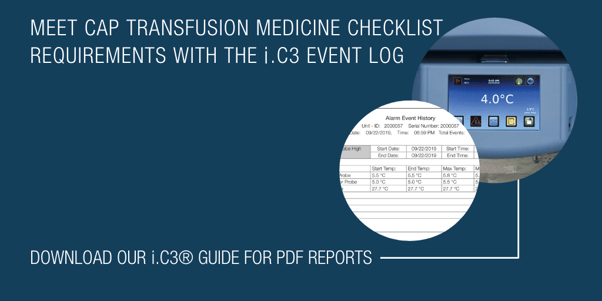 The College of American Pathologists (CAP) released the 2020 edition of its Laboratory Accreditation Program checklists earlier this year. CAP assessors use the checklists during inspections to ensure laboratories are in compliance with Centers for Medicare and Medicaid Services (CMS) regulations and to award accreditation.
The CAP accreditation process is designed to ensure the highest standard of care for all patients. Inspectors examine the laboratory's records and quality control measures for the previous two years. CAP inspectors also review laboratory staff qualifications, equipment, facilities, safety, and overall management.
The 2020 edition of the CAP checklists includes a revision to the Transfusion Medicine Checklist requirement which addresses storage unit alarms. TRM.42750 requires the following:
All component storage units are equipped with an alarm system that is monitored 24 hours/day (in laboratory or remote).
Alarm checks (for both low and high settings) are performed according to the manufacturer's recommended interval, or at least quarterly if not specified by the manufacturer, with results recorded.
The laboratory must demonstrate that all components of the alarm system (including chart/graph recordings) work as expected and that there is a process to ensure a timely response to alarms, including remote alarms.
Since the 2019 edition of the checklists, CAP has required that laboratories be able to clearly show the temperature at which the alarm activated during an alarm test. In 2020, TRM.42750 has been updated to include electronic records and event logs as acceptable for this purpose (in addition to paper recording charts or graphs).
Other Blogs You Might Be Interested In...
i.Series® storage products from Helmer Scientific offer the i.C3® Information Center. An important feature of the i.C3® is the Event Log, which records all alarm events including automatic alarm tests, along with the temperature at which the alarm activated. This information can be downloaded via USB and is available in a convenient PDF report format.
Transfusion services that implement i.Series storage products from Helmer Scientific can benefit from the event log and download functionality, which provide an electronic record that supports compliance with the CAP Transfusion Medicine Checklist requirement TRM.42750 on storage unit alarms.
To learn more about the data transfer and PDF reporting capabilities of the i.C3®, download our i.C3® Guide for PDF Reports.