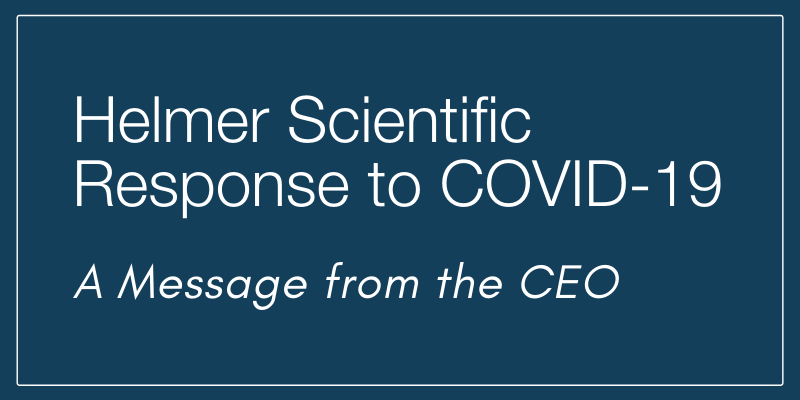 Dear Valued Customer,
Our purpose and work culture at Helmer Scientific are summarized best by our motto statement: WE CARE so THEY CAN… Protecting what matters most to caregivers and their patients.
Our company is devoted to supporting the lifesaving work you do every day, but never have we felt the weight of that commitment more than now. So, like all of you, we are balancing priorities and trying to do the most urgent good we can, while also protecting the health of our team – who we consider "indirect caregivers".
Every customer interaction and every product we build is vitally important to us, and our team is working hard to fill all customer needs. We know that many of you are ramping up to support heightened testing and increased care loads and, as a result, we've received many priority requests. In addition to supporting normal customer orders, we are now also working to deliver products that are filling time-sensitive needs brought on by COVID-19. We are working with urgency, passion, and purpose every day to support the work of our healthcare providers on the front lines to combat this unprecedented pandemic.
Helmer Scientific continues to adapt new best practices to protect the health of team members and the community. We are acting in accordance to recommendations from the CDC and the state and federal government so that we are fulfilling orders safely.
On behalf of every Helmer Scientific employee, thank you for your tireless work. We also want to extend a special thank you to all the healthcare providers involved in COVID-19 testing and delivering care to our families and friends.
In Sincere Gratitude,

Bruce King, CEO
Helmer Scientific